GIVERNEY
Sunday and we rise and shine, get a quick breakfast with an incredible array of choices on our ship, the Viking Kadlin, and hop on our bus for our excursion to Giverney. One always has to remember their headphones and it always happens that someone forgets.  This morning we depart at 8:45 am.
Monet actually came to Giverny in 1883 when he was 43 and eventually was able to buy the large house with two acres of gardens, called the "Clos Normand" by his family.
We enter the gardens early and have them to ourselves.  The land was purchased in 1895 for the gardens.  Monet diverted the Epte to make a lily pond and the resulting garden, with flowers spilling onto paths, and the famous "Tea-garden" bridge flanked by a mighty Willow.  The gardens have 100,000 annuals and even more perennials.  Although Claude Monet is famous for his paintings, I believe he was a gardener extraordinaire.  Sit back and enjoy my photos of the gardens called Jardin d' Eau (Water Garden).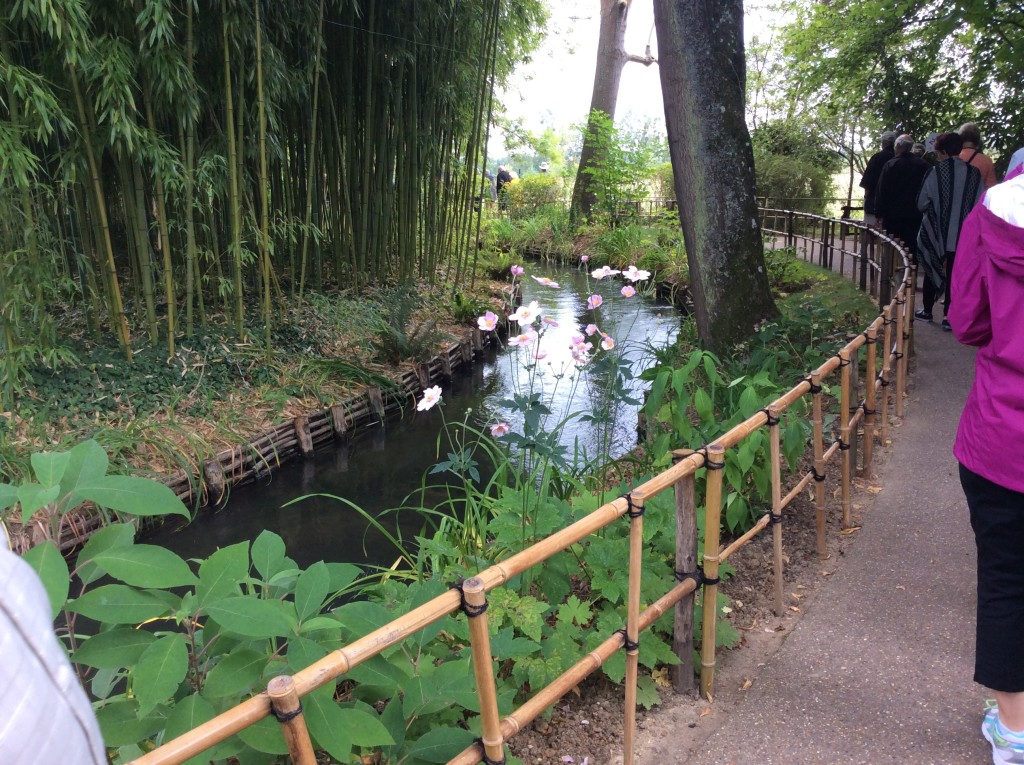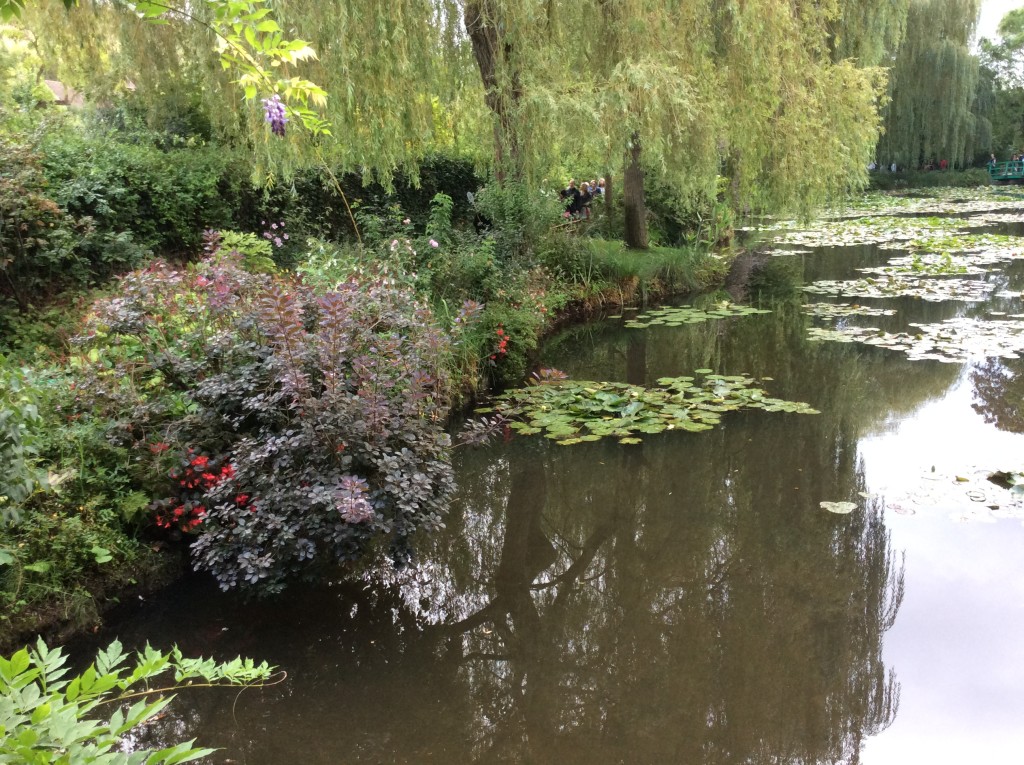 The famous weeping willows with water lilies covering the pond.
While viewing these beautiful gardens, some history of Claude Monet. Monet's mother died when Claude was 16 and Claude was taken under his aunt's wing. While visiting the Louvre in Paris, Claude observed many budding artists copying the old masters. But Claude, using a different approach, sat by a window and painted what he saw. Disillusioned with the traditional art taught at universities, Claude found a teacher in Charles Gleyre in Paris and it was here he met Renoir, Sisley and Bazille.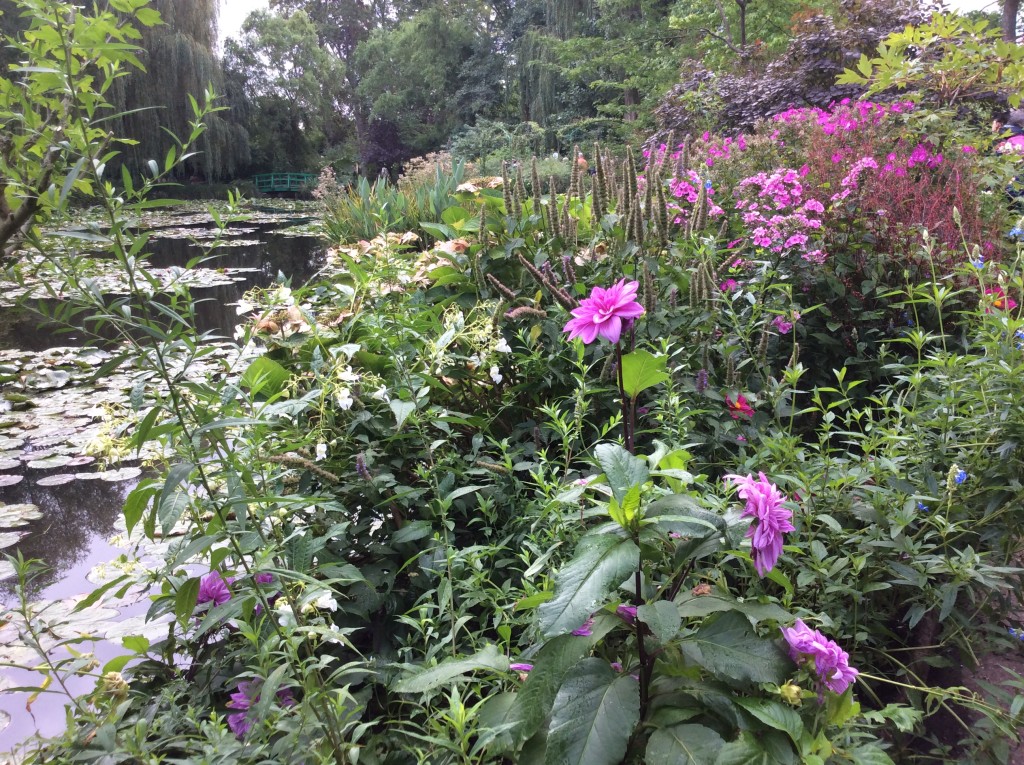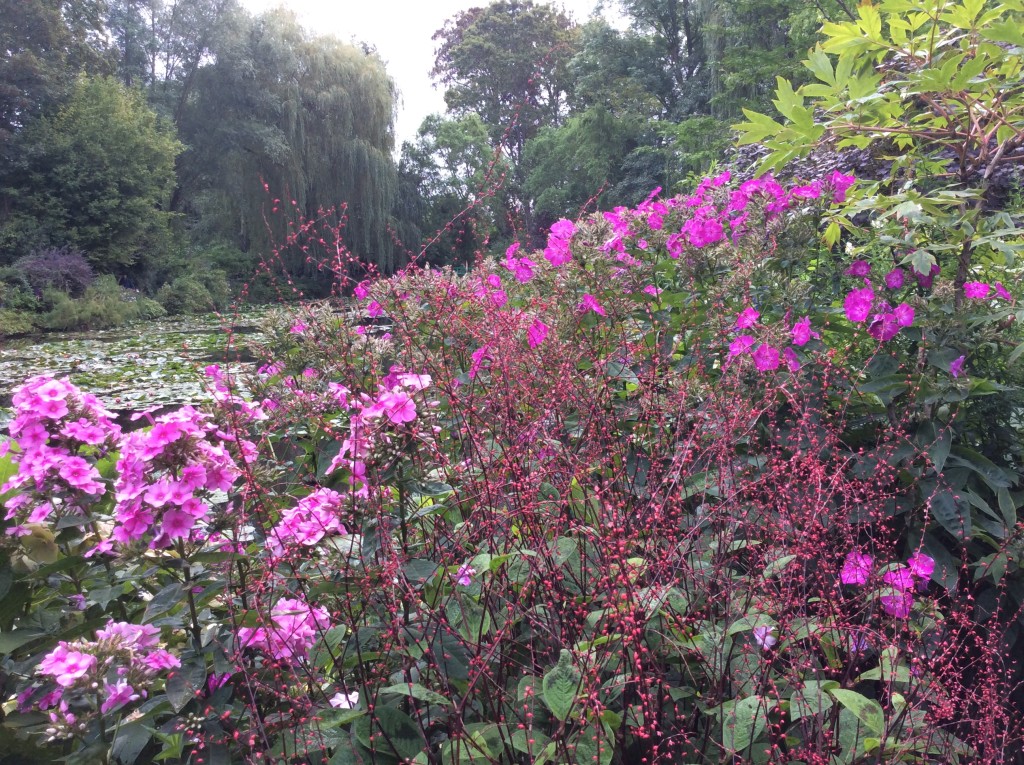 Over time, however, Monet became disillusioned by the teaching of Gleyre, finding it too academic for his independent spirit. During the 1860's, Monet and Renoir started to work in similar lines and painted together. At the time Monet was so poor he was constantly having to borrow money. Renoir would bring food to Monet to keep him from starving, despite being very poor himself.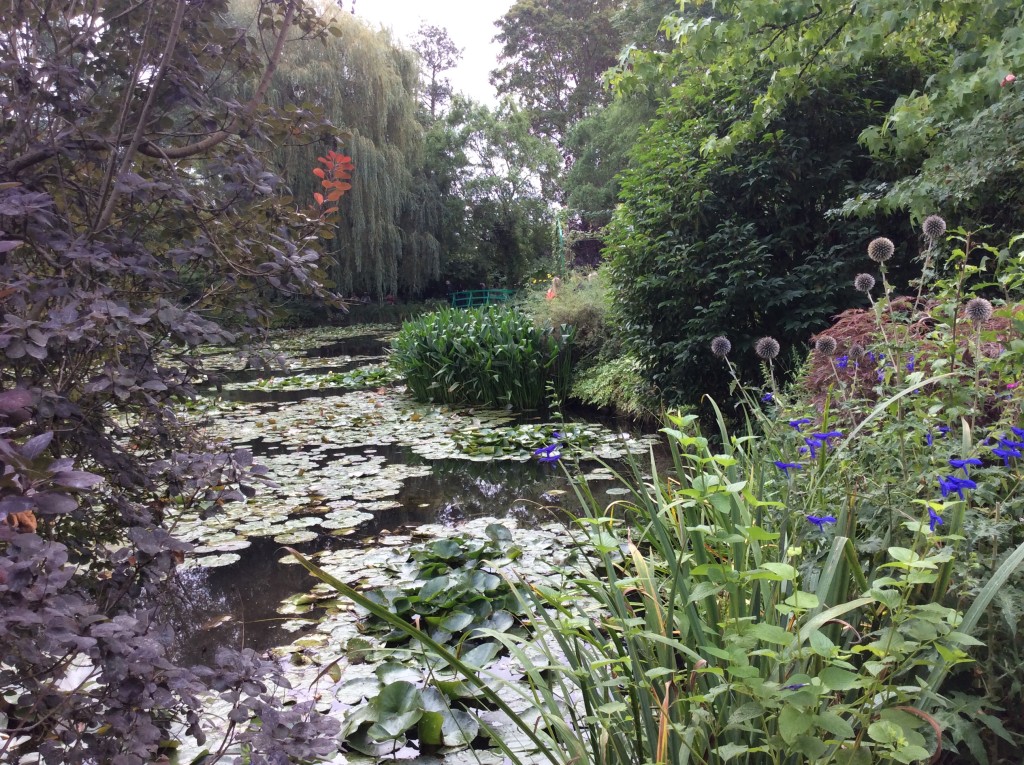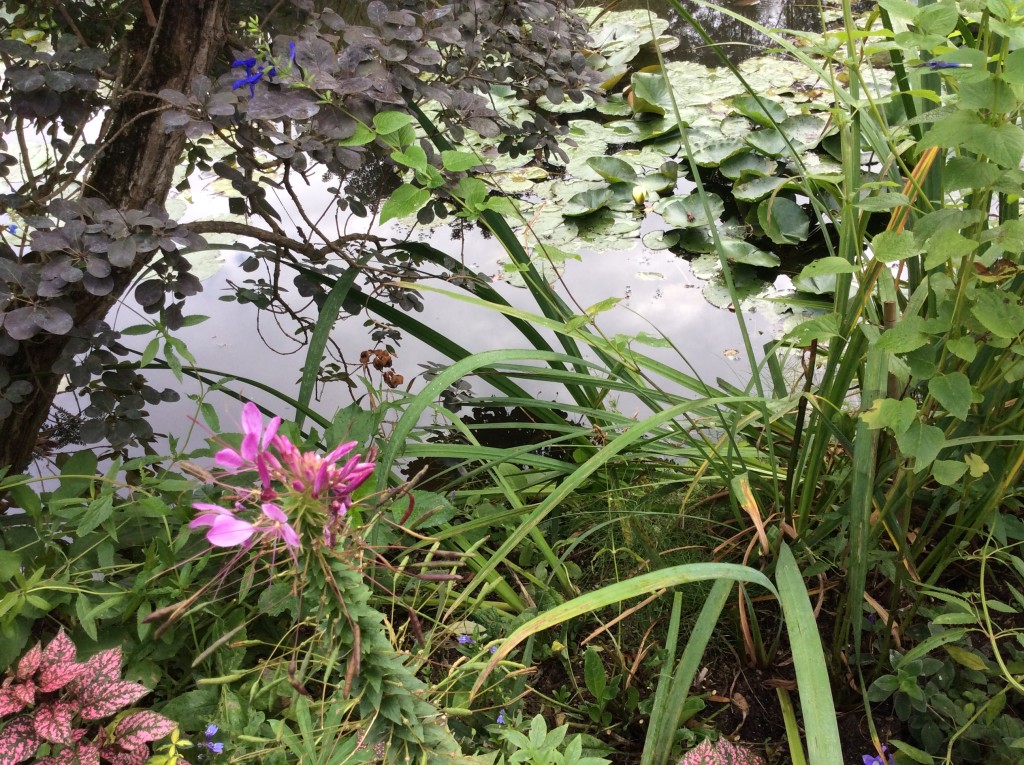 Monet married Camille Doncieux in 1870. Prior to their marriage, Camille became the model for many of Monet's well-known paintings such as The Woman in the Green Dress. When Camille became pregnant and gave birth to their son, Jean (1867), Monet became so despondent over financial woes he threw himself in the Seine to end his life, unsuccessfully. The Royal Academy refused authorization for Monet's art to be included in their 1871 exhibition.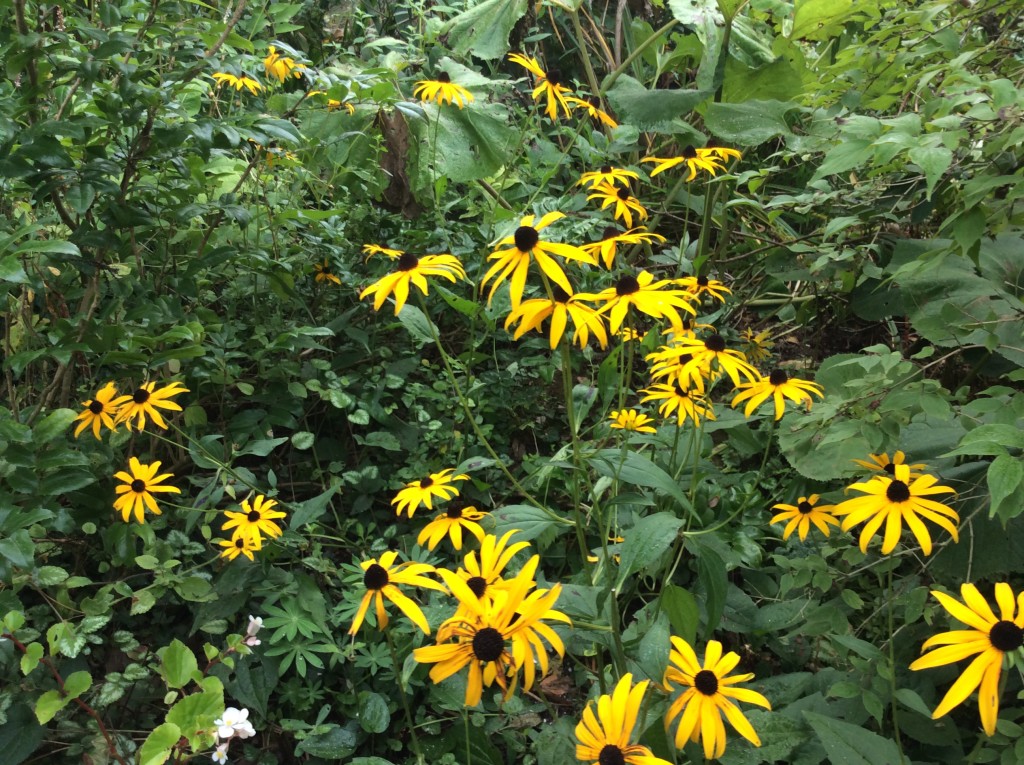 Rudbeckia's or black-eyed susans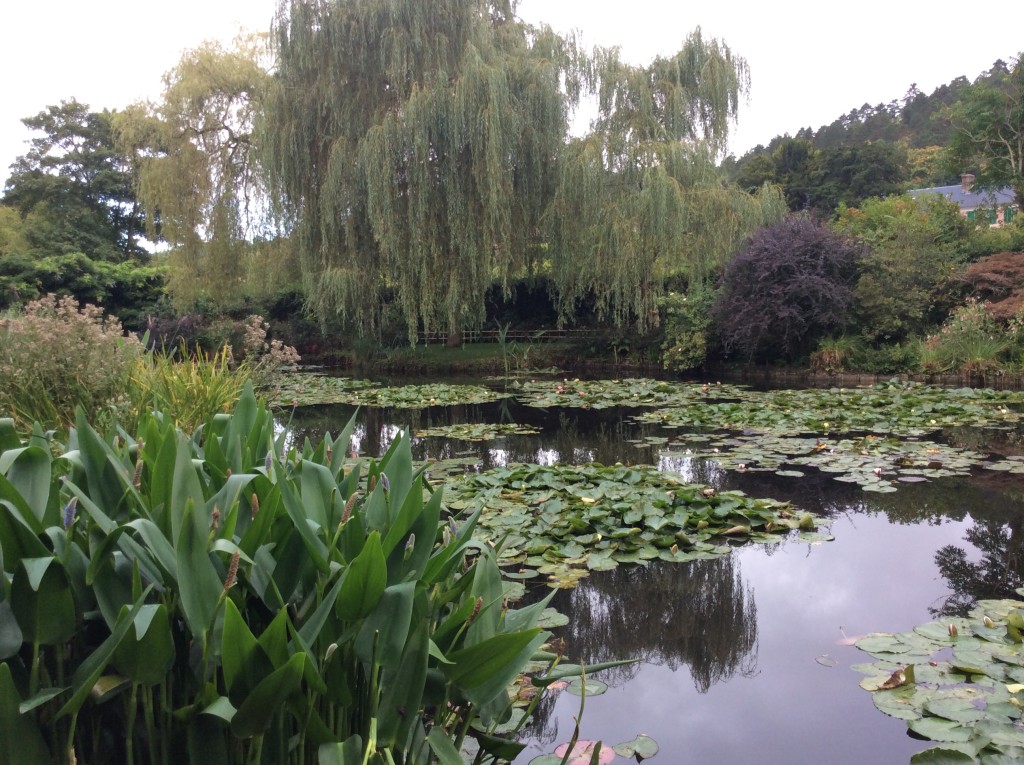 Monet became one of a group of artists labeled "revolutionaries" by the Salon and he along with Pissarro, Sisley, Degas, Cézanne, and Renoir organized an exhibition of their own, the first Impressionist Exhibition (1874), at the time known as 'Intransigents'. The critics were not favorable, saying their art was banal and they have never understood nature. The group was derided as incompetents and were attacked in condescending terms.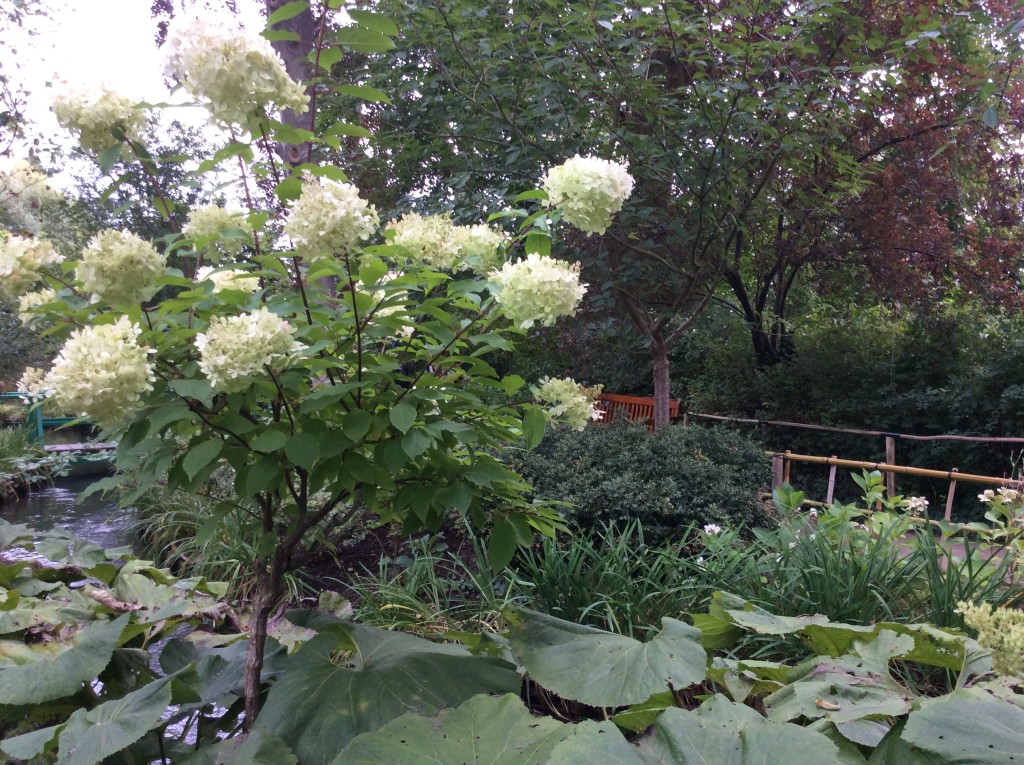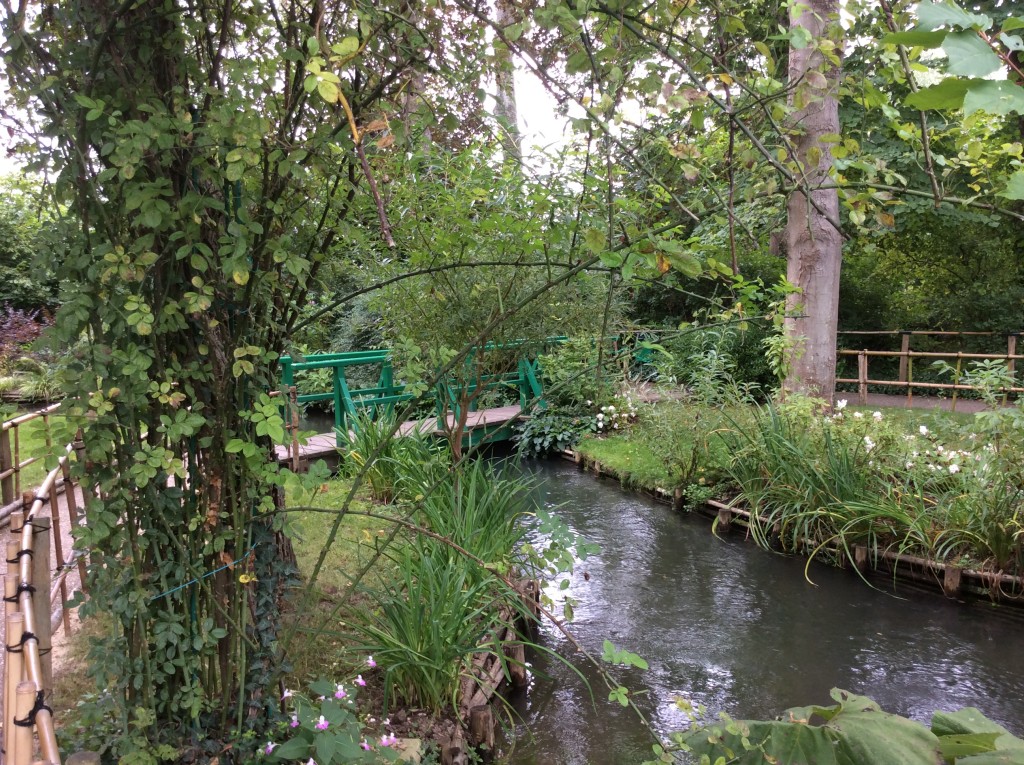 By the accepted art world of the time, the group of impressionist artists were considered defiant, rebellious and adamant in their refusal of accepted conventions. Monet was described as a violent anti-academic and the most forceful of the group of radical painters, yet certainly considered the leader of Impressionist Plein-air painting.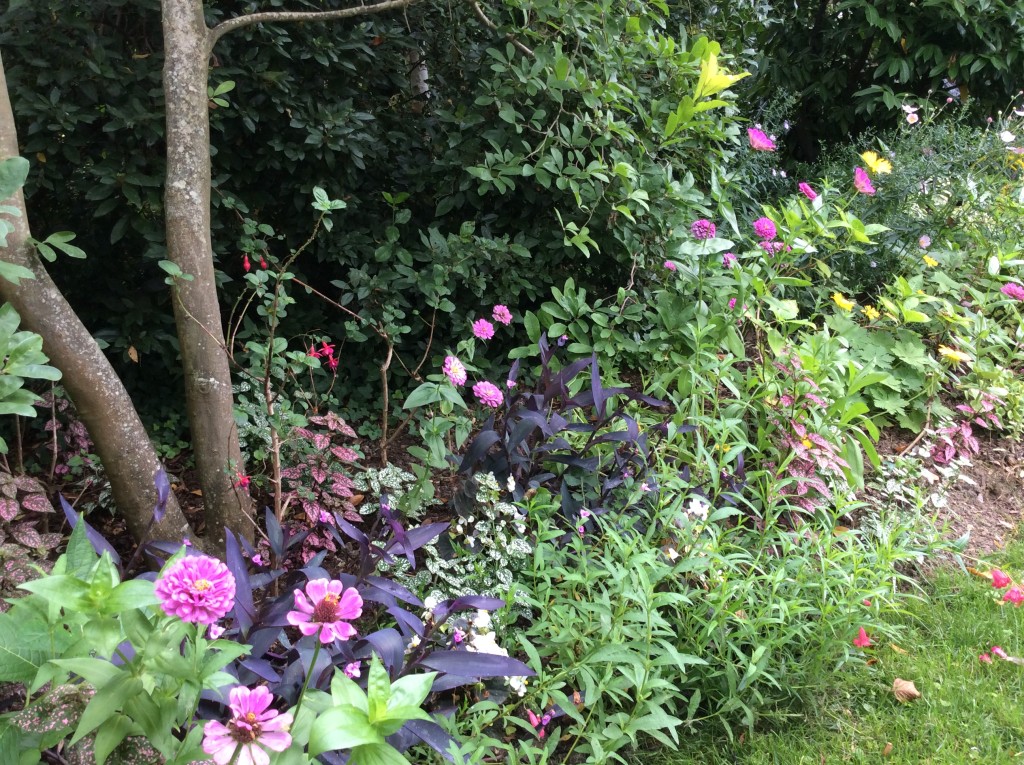 Dahlias, asters, cosmos, sunflowers are some of the flowers blooming this time of year.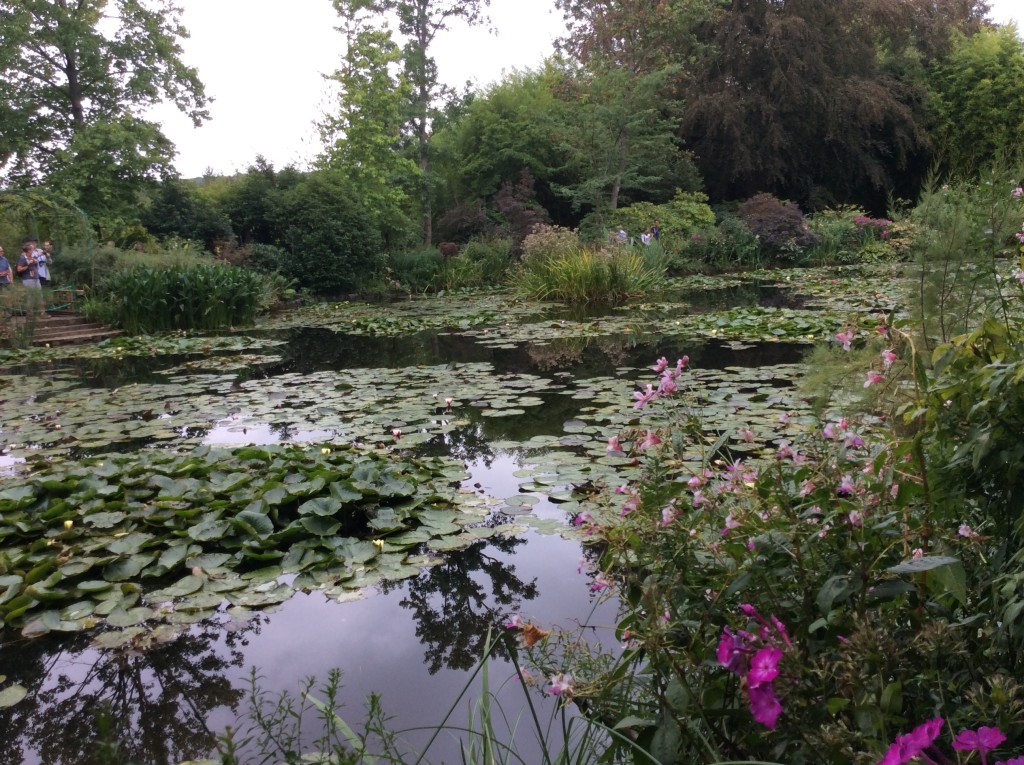 Monet struggled financially. At Argenteuil he had been evicted from his cottage for defaulting on the rent. Manet procured a new home for Monet. The 1874 Impressionist Exhibition made a loss. To offset the losses, an Auction was organized by Renoir and the results were disasterous.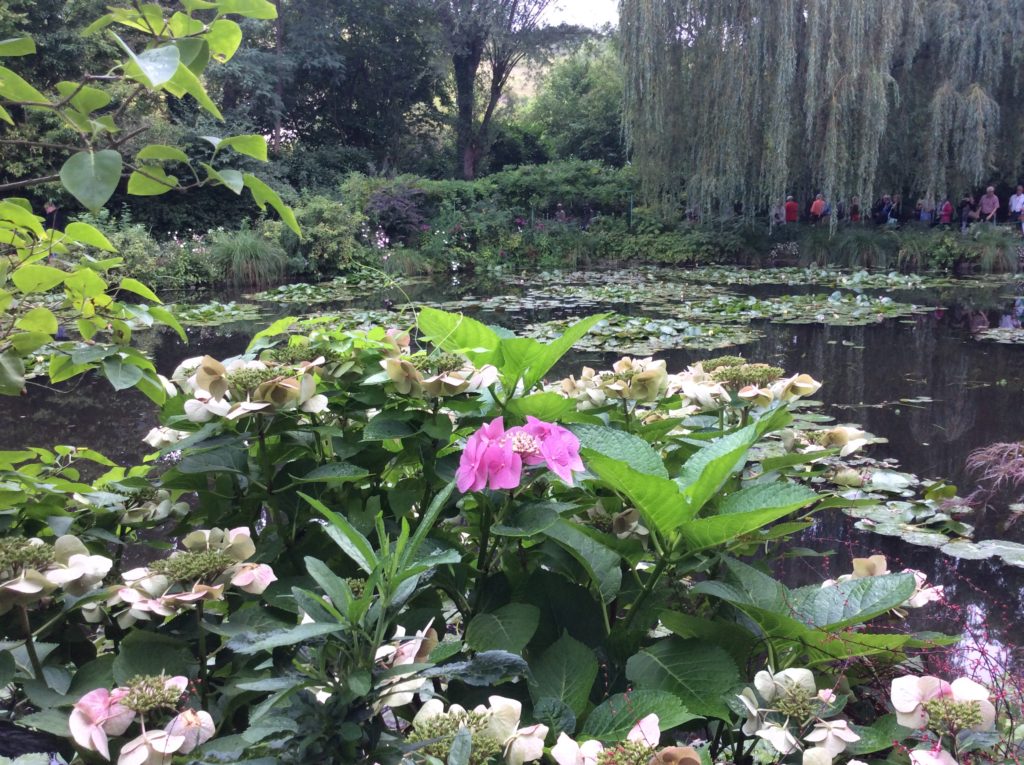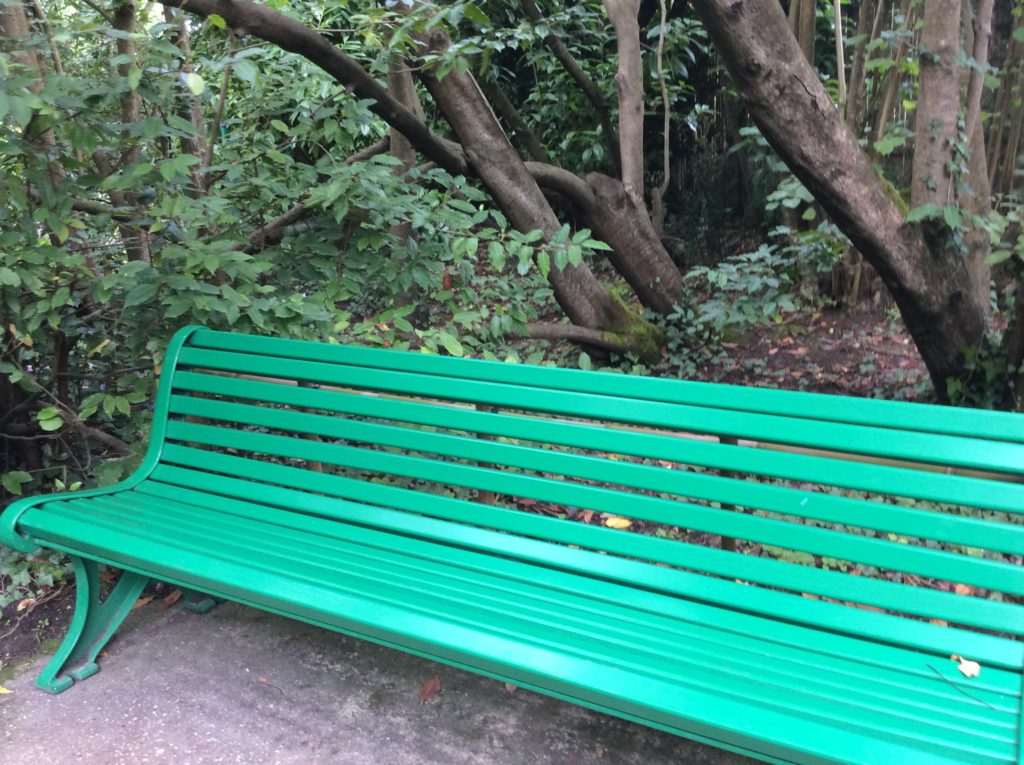 In 1876, Monet had found a new patron, Ernest Hoschedé. Monet moved to new painting territory from Argenteuil to Vétheuil farther down the Seine River. Here a second child was born, Michel, and here Camille died a painful death, probably from cancer. She was only 32.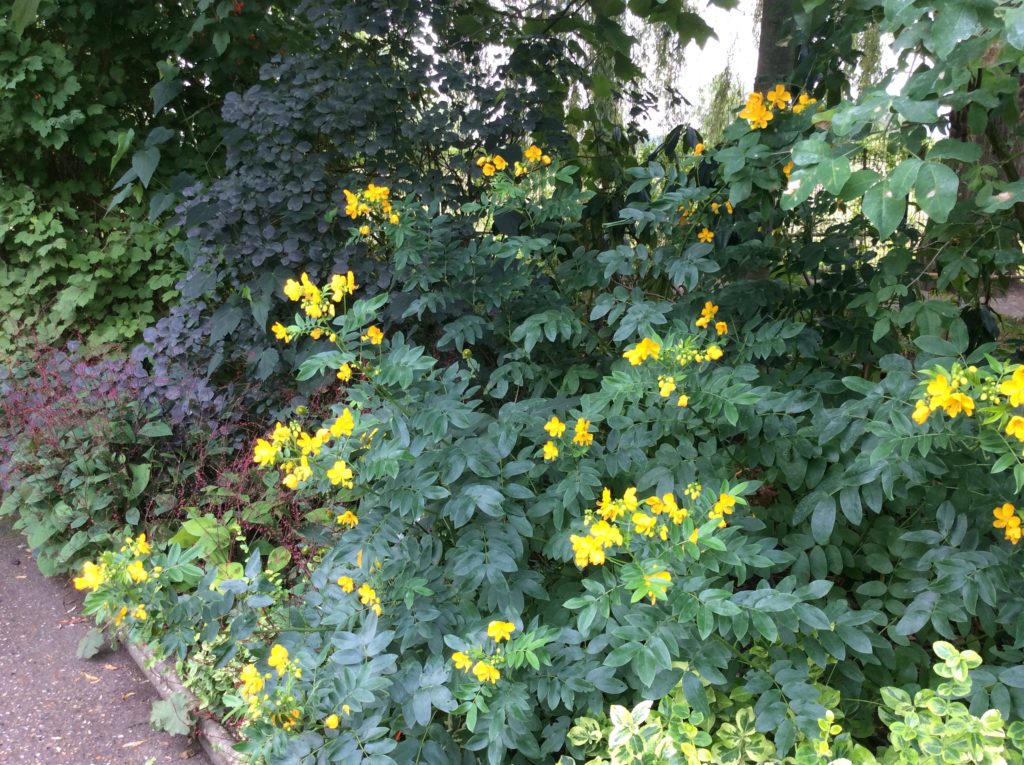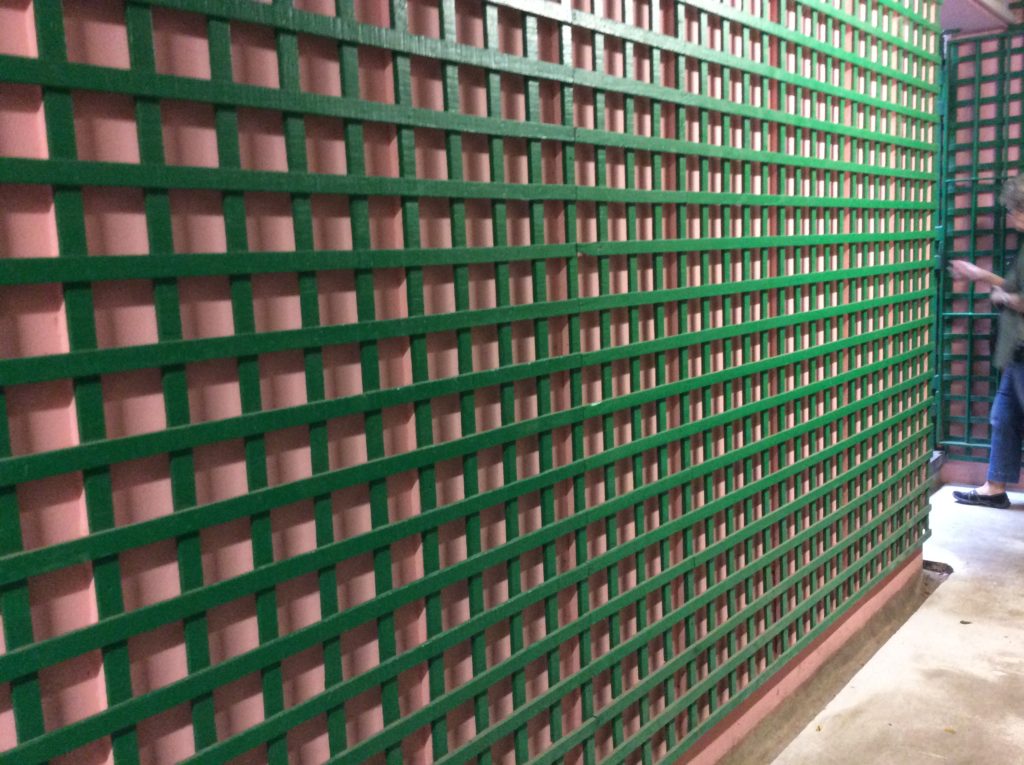 Monet invited the Hoschedés to join he and the bedridden Camille in Vétheuil so into their home moved Alice Hoschedé with her husband, Ernest, and their six children and three servants.  Shortly after Camille's death, Ernest left Vétheuil while Alice continued to live with Monet. After Ernest Hoschedé's death in 1891, Monet and Alice were married. By 1883, Monet and his household had moved from Vétheuil to Giverny and Monet was able to purchase the Giverny estate in 1890.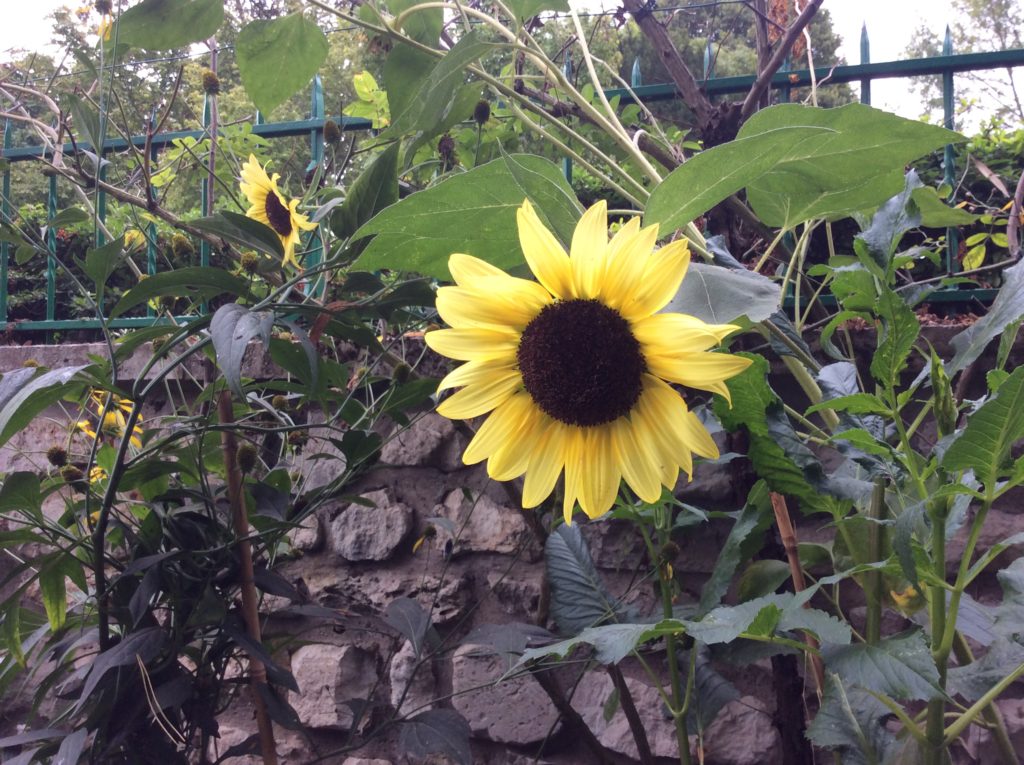 BEAUTIFUL VARIETY OF DAHLIAS IN MONETS GARDENS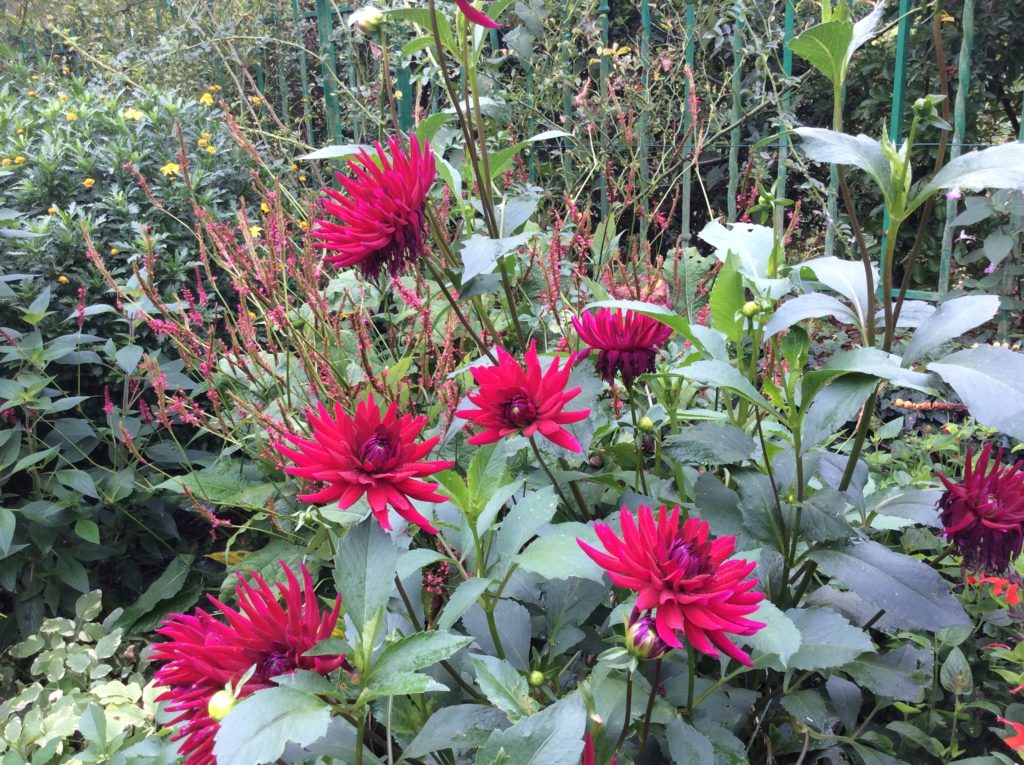 Not sure what this plant, below is but I love the fuzzy, purple colors like little puff balls
Now we come to the gardens in front of Monet's home, Maison et Jardins de Claude Monet.  The pastel-pink stone farmhouse has been lovingly restored and is now a museum.  Monet lived for 43 years in this home.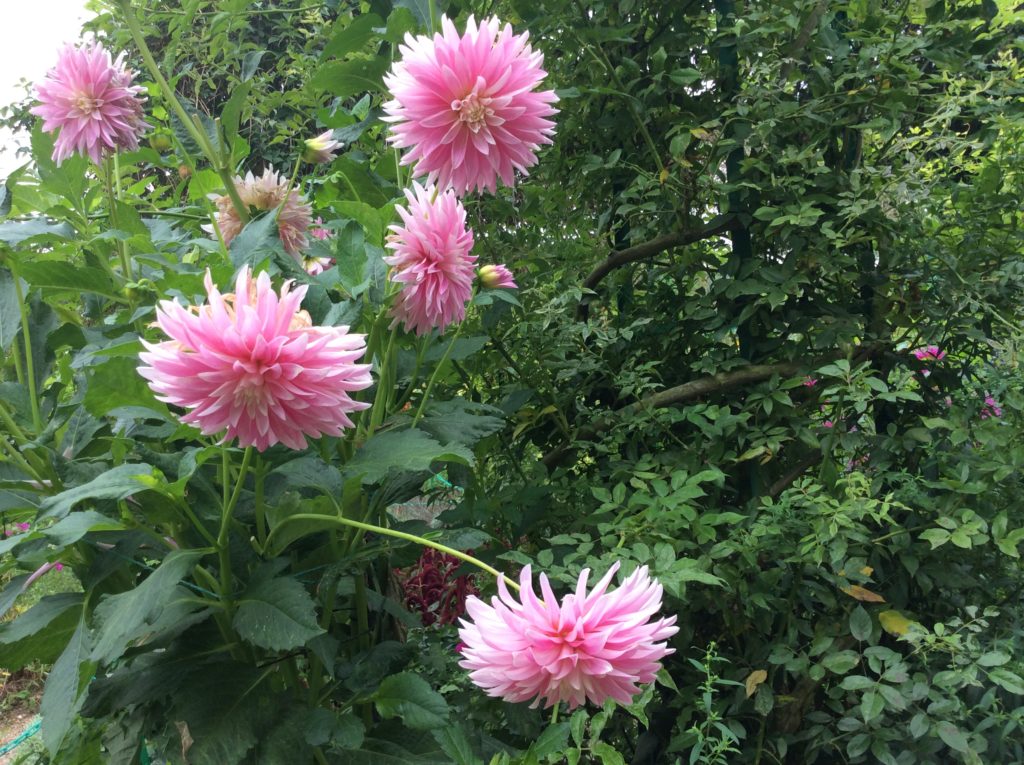 Monet was 43 when he came to Giverney with Alice Hoschedés, her six children, and his two.
View from an upstairs bedroom on the Monet home.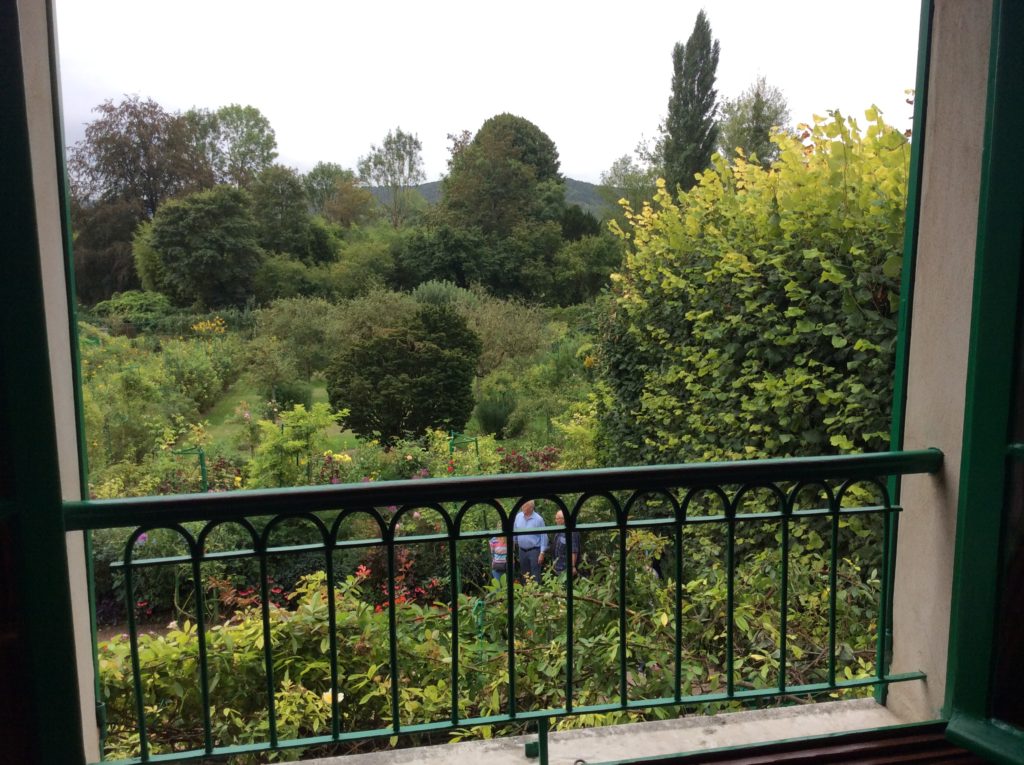 Bedroom of th Monet Home with original art, including a Renoir
Dining area of Monet home in yellow.  Marcy on the left.
Copper pots in the kitchen.
Green shutters and steps accent pink farmhouse, Maison et Jardins de Claude Monet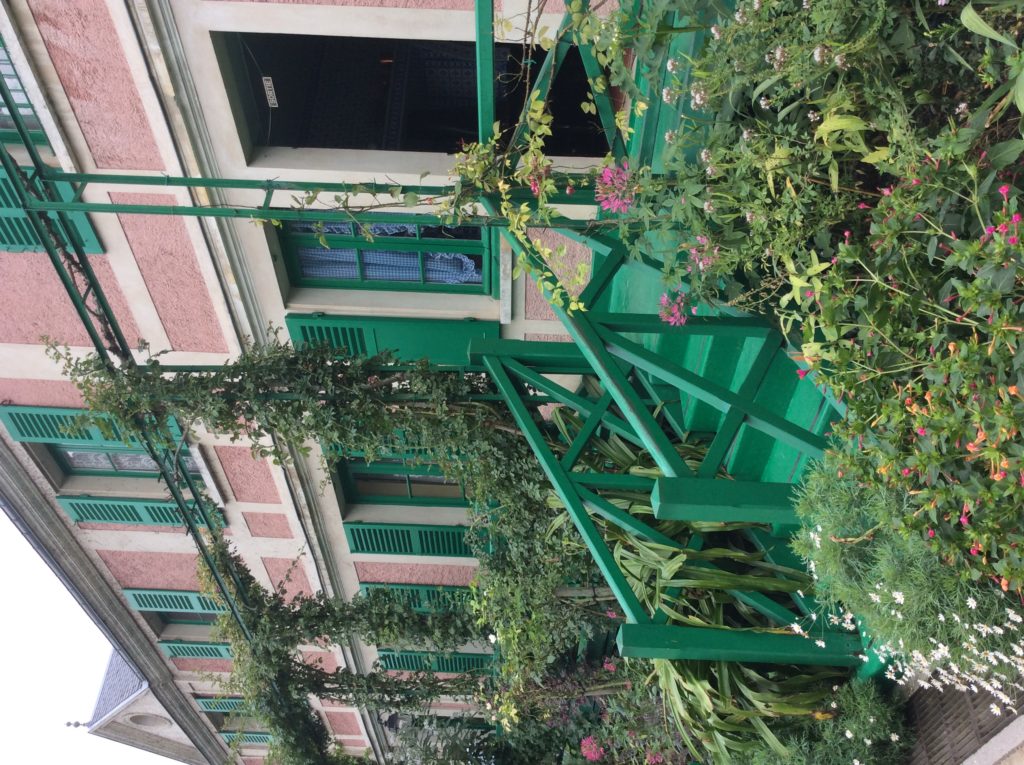 Can you make out the haystacks to the right of middle of photo (below), actually called grainstacks.  Monet did a series of paintings of these grainstacks with different effects of light and instantaniety–grainstacks in winter, in snow, in morning light, in summer, on cloudy days and is well known for these grainstack paintings.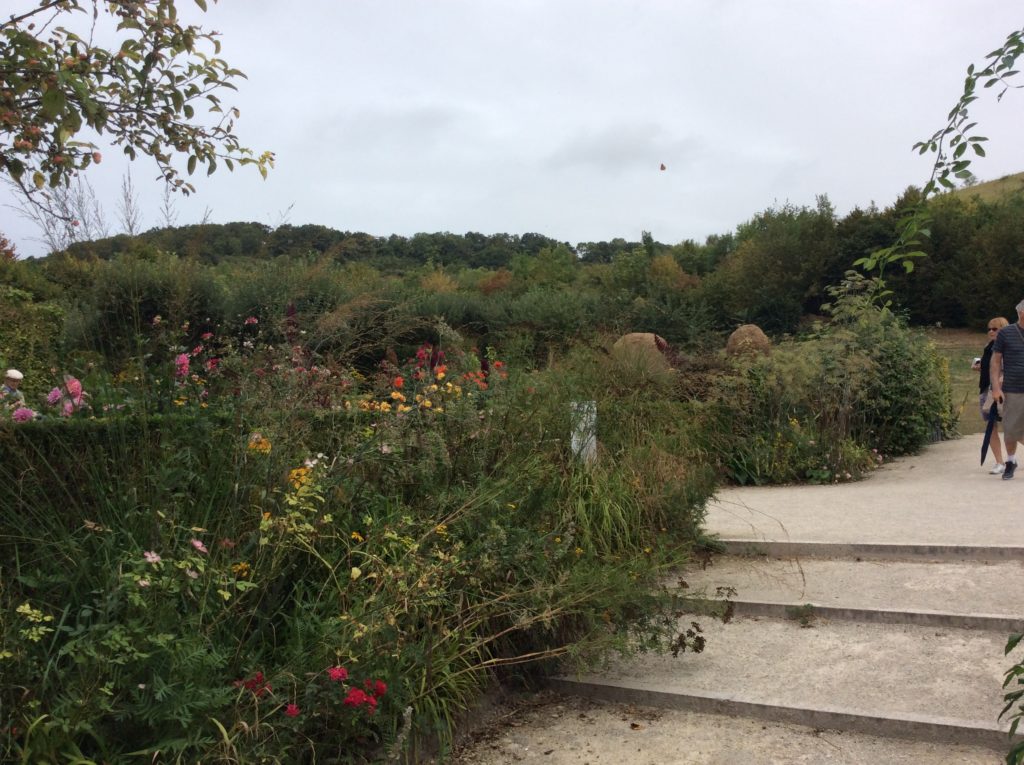 Marcy and I in front of one of the shops in the town of Giverney.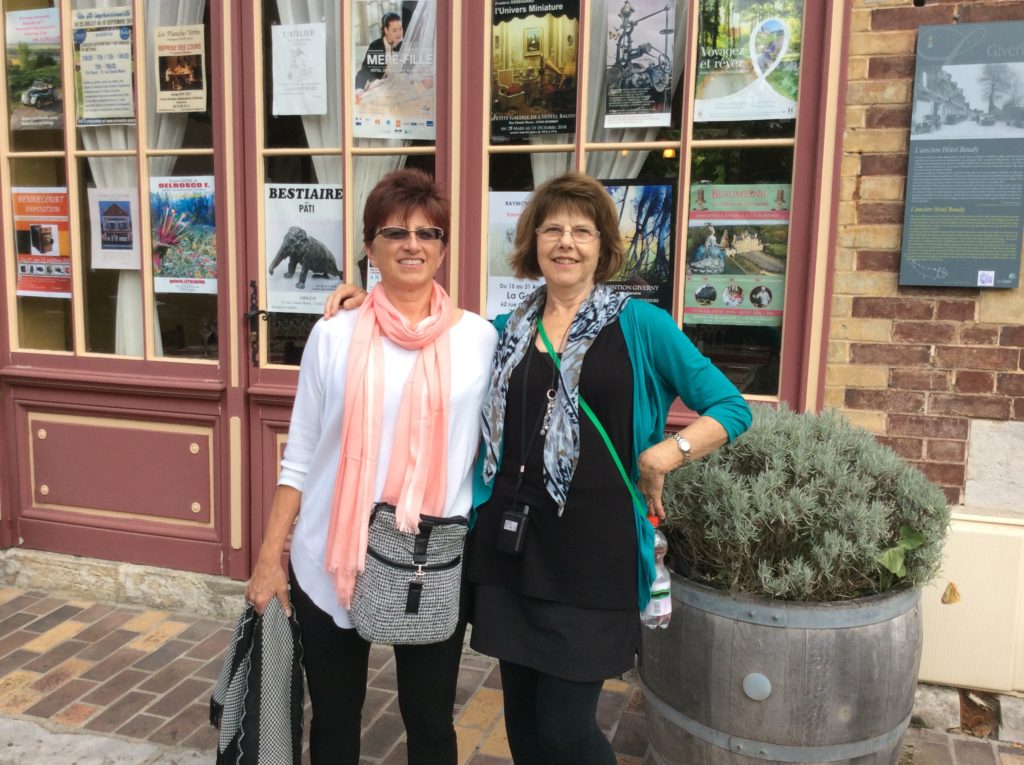 Charming town of Giverney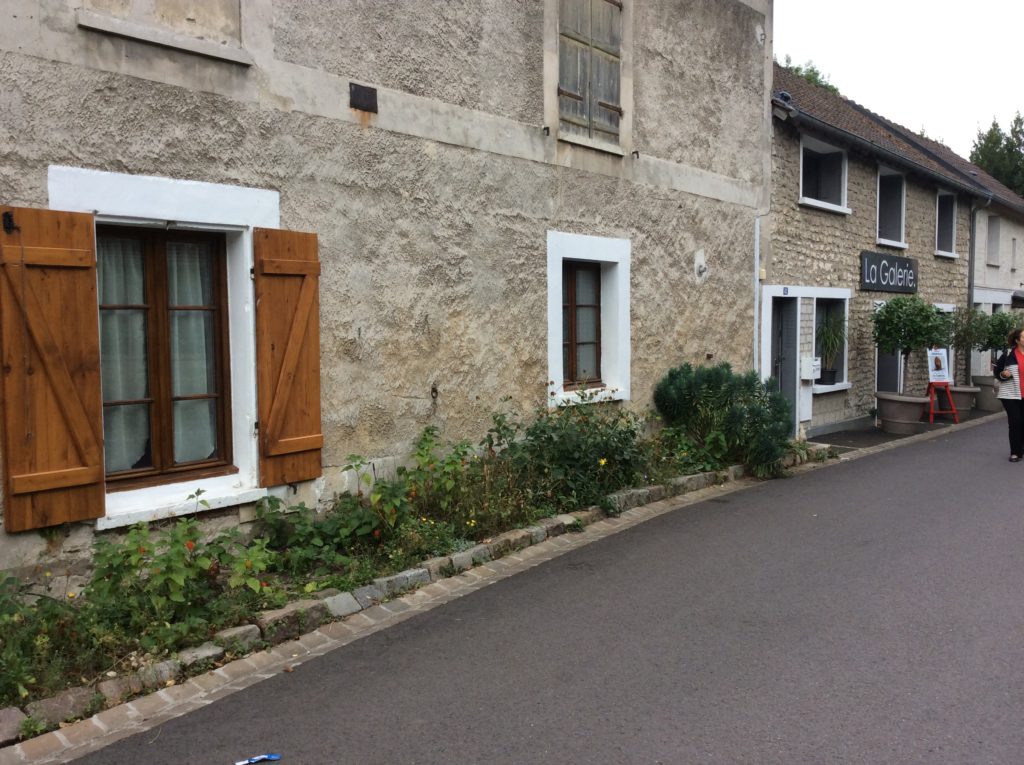 Below Marcy, Connie, Kirk
Monet lovingly cultivated his gardens and lily ponds and painted until his death (1926).
Monet's art is at Musée D Orsay and Musée National De L'Orangerie in Paris.  If you are like me, you will love the beauty of these Plein air style paintings, water lilies, sailboats, women in the garden, luncheon on the grass, study of a figure outdoors — a sense you are outdoors in the sunlight, wind, clouds, light and shadow enjoying nature.