Alajuela and San Jose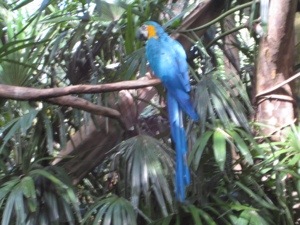 Laying by the pool and dozing in the gardens of Hotel La Rosa De America is one of my first impressions of Costa Rica.
We arrived after an overnight flight and were whisked to the hotel before 9 a.m. A Tico host welcomed us and told us to make ourselves at home, even though checkin wasn't until 2 pm. By 11 a.m., our room was ready and our luggage transferred to our room. A perfectly compact, cheerful room with an overhead fan and louvred windows for ventilation provided a sound night's sleep, with flowers in window boxes and a reading chair right outside our cozy room overlooking the azure blue tiled pool and colorful gardens.
Breakfast buffet was a treat in a cozy dining room with pressed table cloths, louvred windows, orange-fleshed papaya, ripe-on-the-vine watermelon, sweet, juicy pineapple, homemade banana bread, juices, rice and beans and eggs and cheese. Ramon took care of our every need with a huge smile, encouraging us to walk to Zooave and arranging a tour for us the following day to San Jose.
The walk to Zooave was as educational as Zooave. We lunched on an outside patio at Cherrys Restaurant while local Ticos filled the restaurant with their camaraderie and laughter, making me feel something much more interesting was taking place inside.
We practiced our Spanish on the waiter with some success and were joined by a local dog who mournfully eyed us all the while from his seat on the tarmat just outside the restaurants border. The one-mile walk traversed a busy road on a path that sometimes disappeared and then reappeared. It was well worn in the grass, up and down sloping driveways, through garbage, in shade and sun, and around rectangular holes in the ground. The holes were three to four-feet deep with running water, either the city's water supply or drain water; however, with no barricades around the holes or warning of their existence, I learned to watch my step very carefully.
Zooave did not disappoint. Started as a bird sanctuary and rescue center, it showcased dozens of scarlet macaws, owls, raptors, toucans and a host of brilliantly colored birds, giving us a real taste up close of the birds in the wild.
In addition to birds, there were deer, tapir, puma, monkeys, crocodile, and many animals in a jungle setting.
Peacocks came to the grassy picnic area to regale us with their splendid feathers.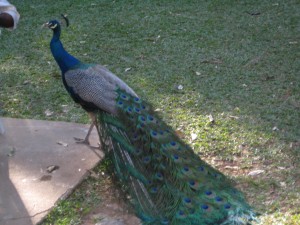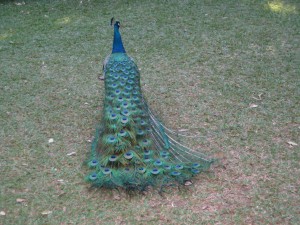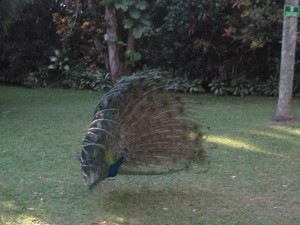 Beautiful flowers and tropical plants were everywhere. A stand of bamboos was impressive.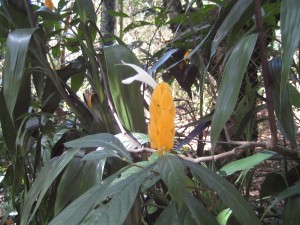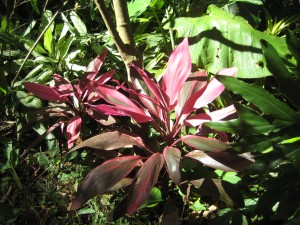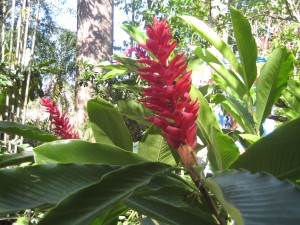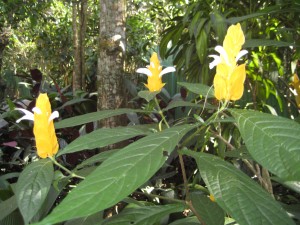 One of the best meals I had was in the little dining room of our hotel at La Rosa, a grilled tilapia with rice and beans (gallo pinto), fried plantains and squash.
Our second day we took a local bus from our hotel to the downtown of Alajuela, a busy, congested, bustling, colonial-era city on the outskirts of San Jose. Uneven sidewalks, lots of traffic, modern stores and local shops lined the narrow streets. At one point we saw a line of young adults going half way around the block, assumed they were waiting for a movie or singing event, and then realized they were all in line with resume in hand for jobs at a government building. The buildings were opposite the central plaza park fronted on the opposite side by a large cathedral. Men lined the benches in the park relaxing and people watching, birds chattered overhead, large trees shaded the plaza, and vendors sold food. Our hotel host had told us about an American-style coffee house which we found, Coffee Dreams, and enjoyed Costa Rican-style coffee while watching the town pass by through the windowless windows and eating empanadas.
Next up was a tour of San Jose, Costa Ricas largest city that brings in a million people a day. Waiting to be picked up by our Tour, we met Ann from Illinois who would be touring with us and instantly got along. Ann kept us laughing throughout our tour and we shared tips and small talk with the visiting guide from Puerto Rico sitting behind us with his bride on their honeymoon. Thanks to Ann, the long bus ride in gridlocked traffic was made bearable as our guide pointed out historic buildings we all peered to see.
We had three stops, the Gold Museum, the National Theater and a colonial-era Hotel and souvenir Shop. The National Theater has much myth and facts surrounding it. We learned that wealthy Costa Ricans wanted a theater of renown and donated money for its construction. Other sources say a tax was levied on all Ticos to pay for its construction and yet other sources say Costa Ricas coffee elite contributed a certain amount for every sack of coffee sold to be used for construction of the theater. The theater is European in style with framework from Belgium, statues, murals and ceiling frescoes from Italy, baroque design overlaid with 22 K. gold and ample use of Carrara marble, stunningly beautiful and refined and a source of National pride. To me, it quite seems like a palatial building from France and odd to be in downtown Costa Rica.
As we maneuvered in traffic and exhaust fumes, our guide shared stories of Costa Ricas history, which I will attempt to summarize in very simple terms and not guaranteeing its accuracy. Costa Rica has a long-standing history of democracy. A political leader Dr. Rafael Angel Calderon Guardia, hereto referred to as "Calderon" was overwhelmingly elected president in 1840. During his four years in office the University of Costa Rica was founded (1940), the Seguro Social — a national health care program — was created (1941), the "Social Guarantees" were amended to the Constitution (1942), and the Labor Code was enacted (1943). History will perhaps best remember Dr. Calderón for having promoted the Social Guarantees which include the right to work, minimum wage, an 8-hour work day, a 48-hour work week, paid vacations, the right to unionize and to strike, social security, and the formation of the Labor Courts to litigate disputes between workers and employers.
As his second term commenced, Calderon began to slip in popularity. At issue were the institution of religion in the public school, the social reforms, the handling of the country's economic problems, and widespread corruption, and accusations of being aligned with Communism which, in fact, did happen when Calderon made a pact with the Communist Party to win the 1944 election. Enter Jose Figueres, who had been exiled by Calderon because of Figueres' strong rhetoric about Calderon being Communist. Figueres helped create the Social Democratic Party. By 1946, tax reform had been instituted and there was huge discord over having to pay higher taxes, especially by those with agricultural and industrial production and large amounts of capital. The election of 1948 pitted Calderon against Figueres's candidate, Otilio Ulate, whose platform centered on free elections and anti communism. Ulate won the election, Calderon refused to admit defeat, and thus began the revolution or civil war led by Jose Figueres. After five weeks of fighting, Figueres was granted authority to run the government for an interim period of 18 months without a legislature before turning power over to the duly elected Otilio Ulate.
During those intervening 18 months, the Government Council presided by Figueres instituted many profound changes. Among these were the nationalization of the banking system, the establishment of a 10% capital goods tax, the prohibition of the Communist Party, the abolishment of the country's armed forces, and the creation of the Costa Rican Electric Institute (I.C.E.). As evidenced during the mere year and a half that José Figueres held power, the government would become a much more active player in the nation's economic and social affairs. The period from 1950-80 can be typified by unprecedented growth of the public sector, the modernization and diversification of the country's economy, and the accumulation of a tremendous national debt. On the positive side, Costa Rica now possesses better health and education systems and more infrastructure, particularly roads and electrification, than most other Latin American nations. As of 1980, Costa Rica also had the world's second largest national debt.
So we found all of this history fascinating. True, Costa Rica has a large middle class, and citizens are provided education, health, and pensions. The water is safe to drink. But our host at Pura Vida Hotel made a point that we need to define "literate" when we say all Ticos are "literate." Standards of living are way below American standards; yet we believe most Ticos have the basics of food, shelter, education and health care. What we loved most about the Costa Ricans was their pure, open, welcoming nature, helpful, generous, friendly, engaging manner. So many we encountered took us under their wing and engaged us with their social, relationship-oriented manner. We also were fascinated by the lack of an Army and Costa Ricas reputation for being a very safe country for travel. We encountered numerous single women traveling alone with little fear for their safety. Petty theft is another matter and is rampant.

The Gold Museum is located directly beneath the main Plaza in downtown San Jose and houses the largest collection of Pre-Columbian gold in the Americas. We wandered from gold exhibit to gold exhibit, fascinated by these ancient pieces so delicately fashioned, yet odd — animal figures, human figures and wildlife. The process for creating these gold pieces was very sophisticated. Starting with beeswax for the design, then covered with clay, which hardens, the wax is melted and runs out a duct, and the heated metal is poured in, hardens, and the clay mold broken. Our tour ended with a stop at a gold retailer to buy gold pieces, or jade. Then it was back on the bus for more gridlock getting out of San Jose while we chatted with Ann and the honeymooning couple.
The next morning we were packed and ready for our shuttle, taking us by car to Monteverde Cloud Forest and saying goodbyes to Ramon and Troy and all the others that had been such great hosts at Hotel La rosa de America. Our first two days in Costa Rica had been pretty eventful; little did we know so much more was to come.