Santa Elena and Monteverde
We arrived in Monteverde by shuttle, a three to four-hour trip from Alajuela.  Half way we stopped at a soda for banos, drinks and snacks in a very clean restaurant and store.  For our traveling companions, we had three single ladies traveling alone, none of whom knew each other. We encountered this often, women traveling alone feeling very safe to do so in Costa Rica.
The second half of our drive was on dirt and rock roads ascending the mountains, rocking back and forth and bouncing up and down, so we were quite relieved to arrive at last at our lodging, Monteverde Rustic Lodge in Santa Elena.  However, we had only thirty minutes before our tour to Sepulveda Park.  We had just ordered some sandwiches at Bon Appetit when our van arrived for the tour.  Hurriedly packing the lunch in styrofoam boxes and asking the driver to stop by our hotel to pick up my bag with snacks and water, the other passengers were held hostage until we were finally ready, not the best way to start a tour. Our first stop was at the Butterfly Gardens, encased in a huge dome, where our guide taught us about butterflies.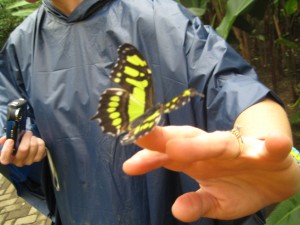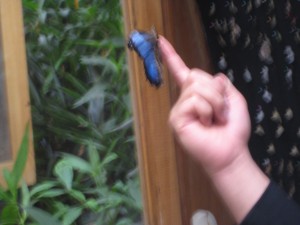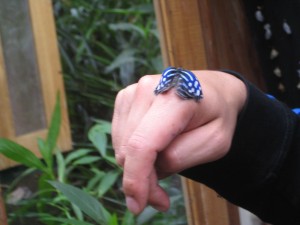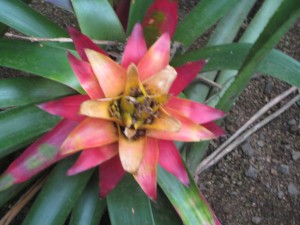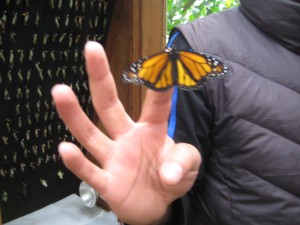 We then hiked to the rain forest where We traversed seven sky bridges high in the forest with views of trees and plants below us, most of the time in a drizzling rain.
Our little Lodge was up a small hill from the main street of town, and our room was up a steep slope of slate stone.  Since it seemed to be raining or drizzling during our entire stay, negotiating the road and slope was tricky.  Our first night we descended the rocky, dirt road in the dark until we got to the main street, then traversed a ditch to a sidewalk that took us to the center of Santa Elena.  The path was partially lit and sometimes difficult in the dark and drizzle.  Once in Santa Elena, there was a lively, festive vibe with locals and foreigners hustling about, stores brightly lit and restaurants open.  We chose Musashi, a Japanese Restaurant, and my insides were warmed by the most delicious concoction called "honey tea."
As we were the lone diners, we wondered if the food would be good but not to worry.  The teriyaki arrived and we gobbled it up, relishing every delicious bite and by the time we finished, other diners had arrived.  Our table looked out to the main street of Santa Elena and we loved people watching.  We also were amused to thank our Japanese hosts in Spanish.
Our hosts at the Rustic Lodge were very helpful as we shakily used un poquito Espanol and they used a little English and we finally communicated.  Tours and transportation were arranged.  Breakfast in a communal dining room with handcrafted tables and chairs and fresh fruit, coffee, pancakes and juice was very enjoyable.
We were on our way to the Monteverde Cloud Forest Reserve our first morning for a tour of bird watching and learning from a local guide about the cloud forest.  There is a constant mist from the clouds giving this area its unique ecosystem and a huge diverse variety of plants, trees and birds.
In this cloudy day, we also saw butterflies in their protected butterfly garden and learned about their habits and lifespan.  The Cloud Forest reminded us a lot of the redwood forests in northern California with it's large ferns and constant dampness.
After lunch and a nap in our room, a taxi called for us to take us to the El Trapiche Coffee Tour (www.eltrapichetour.com). Jorge greeted us with a big smile and a sense of humor.  There we saw Evan and Sue, Richard and Tingle from our rainforest tour, along with four young girls from Iceland in flip flops and tights, fair skin, long blond hair, a botanist from Spain, a couple from New York and a family with two boys.  Off we went trailing Jorge on a windy, misty day, huddling in our rain jackets, tromping up the gravel path in mud to the coffee plants.
The coffee seeds are germinated, and the plants are eventually planted in pairs to encourage growth as they compete for light.  We tasted the coffee berry, chewing the outer part of the red berry, a sweet, chewy pulp.
We passed through sugar cane fields, so tall we were dwarfed by the stalks, the ripe stalks with tassels like corn. Jorge, using his machete, cut sugar cane for us to sample.
When we arrived at the coffee plants ready for picking, Jorge strapped the picking basket on one of the guys, explaining the arduous task of picking the coffee beans.
Only the ripe beans are picked, so often the coffee plants will be picked for week after week until all the beans have ripened.  The pickers earn $2 for one basket which takes about one hour to pick.  The basket gets very heavy, is hard on the back, and is extremely hard labor for very little pay.
The berries go through a machine that removes the outer skin and pulp, leaving only the bean.  The uniform beans go to a drying shed where they are spread in trays for drying.  When ready for processing, the beans are sorted on a machine that sends the best beans of uniform size to one tray and the rest to another.   The beans are put in a roaster and as they come from the roaster the hot beans are stirred with a large wooden spoon to prevent further cooking as the beans are very hot.  A medium roast or dark roast is determined by how long the beans are roasted.  We could touch and hold the beans along the entire process and eat a roasted bean.  Of course the smell was heavenly.
We were able to observe sugar cane processed by oxen harnessed and walking in a circle to generate power to push the canes through a crusher and squeeze the juice out.   The farm was set up to demonstrate the evolution of processing sugar cane.
We observed a water wheel powered by rain water provide the power to crush the sugar cane.  The juice is heated in massive stone bowls stirred by workers.  We were able to taste the brittle sugar as it hardened from a molasses-type syrup.
Some of the heated sugar was poured on a very long wooden table in sections so we could all take our turn at stirring the sugar to a consistency of taffy and oh-so-delicious candy.
Some Tico workers were making their own batch of candy with more of a taste like brown sugar.  We all got a sample and their candy was super and for me, addictive.  We also sampled pure sugar cane alcohol and I think we were all a bit tipsy after our shot of sugar cane alcohol, especially the girls from Iceland.
At the end of our tour, we gathered in a communal dining room with a long, wooden table and enjoyed coffee, a treat made from one of the plants grown on the plantation, and a beverage of sugar cane.
The El Trapiche Farm turned out to be a highlight of our trip to Monteverde. Jorge was an excellent guide with a sense of humor and very knowledgeable. The hands on tour included tasting, smelling, cooking, stirring, with lots of questions in between.
Our last night in Santa Elena was raining so we decided to eat at Bon Appetit, the restaurant closest to our Lodge. Taking cover under rain jackets, we slid down the muddy hill, arriving to a warm interior and friendly greeting by our host.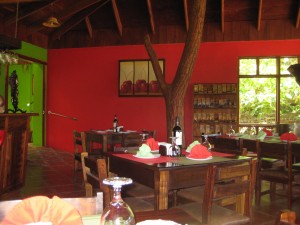 The restaurant could be in any big city, but here it is at the bend of a rocky dirt road with muddy potholes.  Tables are set with brightly colored napkins and soft lighting.  Although the restaurant had only two customers, our meal could not have been nicer. My tenderloin steak, vegetables and salad was excellent.  Our host was helpful and went out of his way to get the weather report for us for the following days trip to Lake Arenal.  My husband had spaghetti octopus with a tasty red sauce. Bon Appetit was satisfying in every way — food, atmosphere, friendliness, and service and I promised the owner to post a review on Trip Review so more people would come out and enjoy.
We were truly sad to leave Monteverde Rustic Lodge. Our hosts had been so friendly. The host in the pink shirt somehow made out what I was trying to communicate in my bungled Spanish. We were treated like family and invited to put our leftovers in the refrigerator and use the microwave for cooking lunch leftovers. On our last day, I ran to get our host because the shuttle was late. He laughed and assured me we were fine and the bus would be there to pick us up in a couple hours. "A couple hours?" I moaned. He grinned ear to ear knowing he pulled a joke on this gringo tourista as he said, "What's the hurry?" The bus arrived within a short time and we were off to La Fortuna, traveling by bus, boat, and bus.  We traveled through  beautiful country, verdant mountains with vistas of rain forest, green pastures, small farms, grazing cattle, roadside sodas, all pristine and resplendent in the sunlight.
Because of recent rains, the dirt and rocky roads were muddy and had many potholes but with the help of road crews, our driver maneuvered up and down the slopes and through the mud adroitly until we arrived at Lake Arenal, about a two-hour drive.  The driver hoisted our luggage through a window at the back of the bus and we lugged it down a muddy, rocky slope to the boat.
There were maybe twenty-five passengers on the boat, a flat ferry-type  boat with two drivers.  As we crossed, we observed Arenal Volcano directly in our path.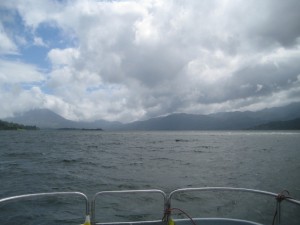 After another luggage drag up the other side of a muddy, rocky slope and passing the luggage through the rear window of another bus, we were on the road again for the final leg of our journey to La Fortuna.
Happy were we to be dropped off after our long jeep-boat-jeep ride at the Hotel Rancho Cerro Azul in La Fortuna, where we would hook up with Chris and Dave for three nights in La Fortuna before heading to Dominical for the last leg of our journey.