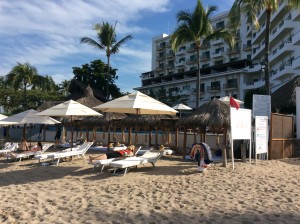 We arrive to Premier Villas and Spa, a condominium hotel, on the beach.  We are jet lagged the first day, but because we have purchased all inclusive, all meals, beverages, and room have already been paid for.  So I find myself on one of these chaise lounges for the good part of a day, dozing, watching people on the beach, and generally winding down.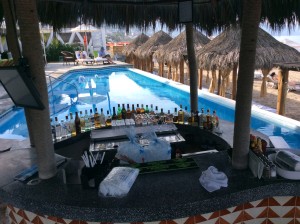 Above is The pool bar with the beach palapas beyond.  The staff works day in and day out getting the Villas spotless, serving us food and drink, and keeping everyone happy.  We enjoyed ordering snacks from the bar as we never were quite sure what we would receive.  Vegetables and dip turned out to be sticks of celery, jicama, cucumber, carrots with a red liquid we were told was "not spicy" and tasted a little like paprika.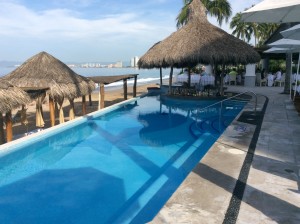 Above is the pool bar from the opposite direction with Puerto Vallarta skyline in the background.  Our villas were located just on the edge of the downtown, between downtown and the Hotel Zone.  Only seven stories, Premier Villas felt like a small family.  Never crowded, with lots of room on the chaises, and the palapas at the beach.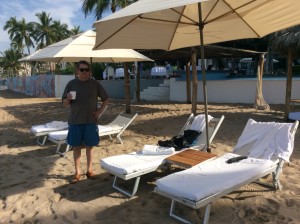 Bill, above, might have just,come from a swim in the ocean.  We really liked the sandy beach and were very close to the ocean.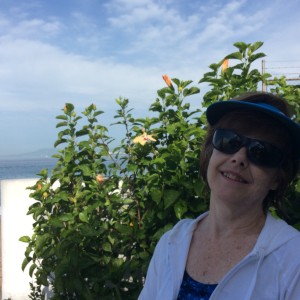 Connie after enjoying breakfast.  The outdoor patio dining enabled us to have a beautiful view while enjoying breakfast or lunch.  Most of the time, the food was very good; sometimes a bit unusual, almost always catering to foreign taste.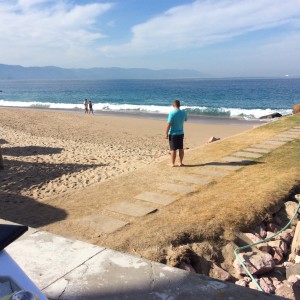 Here is our view from our patio dining table.  The ocean was as warm as bath water for swimming and not too rough to get in, although for tender feet the rocks made for a funny transition slipping first this way, then that way until finally emerging from the surf.
Beautiful hibiscus flower near the patio.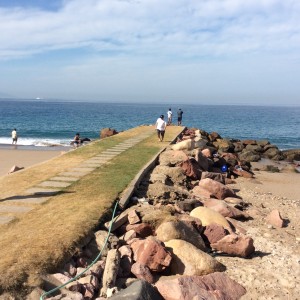 Above was a jetty that extended from our villas.  People always congregated at the end of this, sometimes fishing, sometimes looking in the ocean for ocean creatures, sometimes couples romancing, lots of photo shots, and Sunday a group of young men spent the entire day laying or sitting here watching life go by.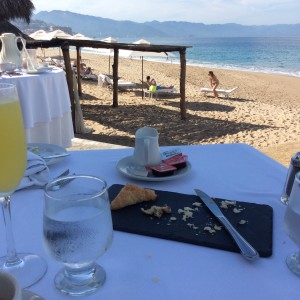 Another view from above of our breakfast table.  We spent only two nights at the Villas and our only excursion was a walk two blocks to the malecon and walking another mile or so until we were too hot and tired to go much further.  Puerto Vallarta was humid, so even in the 80's we got drenched in damp clothes quickly and were glad to return to our air conditioned room.  Then we got too cold quickly, and would go to our hotel balcony and watch the sun set, very relaxing and mellowing.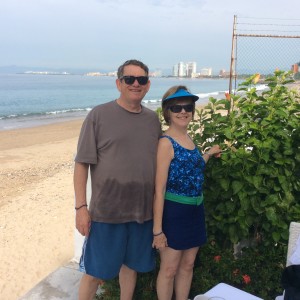 Bill and Connie after a morning swim on our last day.  We had a nice breakfast after our swim.  The Villas had a yoga instructor on the beach every morning at 9 am.  What a great way to stretch.  Even I could do the stretches so not advanced, just right!  Now we await our van with Bill and Summer Jane to take us to Sayulita, about one hour north of Puerto Vallarta.
We loved our stay at Premier Villas and Spa.  The all inclusive was perfect for us to get the most out of two nights and two days.  Staff was very thoughtful and did everything they could to fulfill our needs.  We used room service several times and it was much quicker than I imagined it would be and everything came exactly as ordered.  On arrival, we were greeted with a short massage and champagne.  Drinks were prolific; no skimping here; as soon as our glass was empty, another glass came filled with same spirit or beverage.  This is an all adult property, very quiet.  The pool and pool bar closed at 6 pm.  But one could get up with the sun and have the entire beach to themselves.  Security was posted at both entrances and kept the vendors at bay and a watchful eye on the guests and their property.  We were even given a better price than quoted because they said we didn't stay an entire second day.