It was an hours drive north from Puerto Vallarta to Sayulita.  We drove through dense jungle terrain lining the road and a few small, rural towns selling coconuts at roadside stands and other fruits and vegetables.
Looking down the hill from Casa Hermosa.  Very steep and treacherous so Bill and I hold hands when traversing up or down to prevent falls.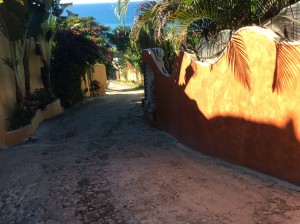 We arrive by a taxi van and drive right past the Casa.  The taxi van tries to turn around on the steep street but his engine just stalls and tires spin.  The driver backs up to have another go at it and finally gets enough traction to drive up and turns into a driveway.  Now all the driver has to do is back his van up the hill which also proves difficult but on the second try, we are headed in the right direction, back down the hill.  We unload the suitcases as fast as we can as another car is waiting behind us on the one lane road.  I wonder how the emergency brake can hold the van from rolling down the hill.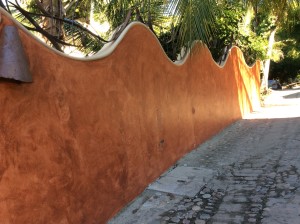 Everwhere Casa Hermosa has beautiful curves and artistic finishes like this wall onto the street, undulating like a serpent and ombré sun burnt walls.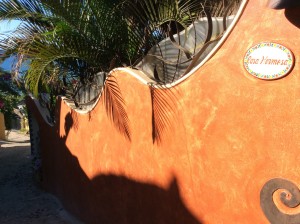 Casa Hermosa sign with walls are topped by lovely ironwork which also serves as a deterrent to any would-be thieves.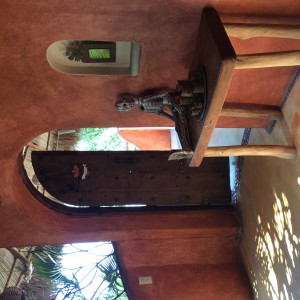 Once inside the gated walls, you enter the Casa's upper floor through these doors.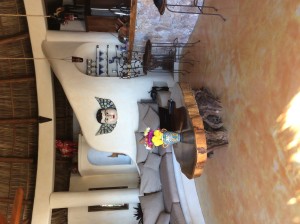 The living room
We all rush to explore the Casa Hermosa, pick bedrooms, unpack suitcases, shower and get comfortable.  The temperatures are warm, but the humidity makes us damp and our clothes cling to us.  We find the plunge pool is the best way to cool down.  While getting into the pool we Yelp at the cold water but once submerged we feel cool and comfortable.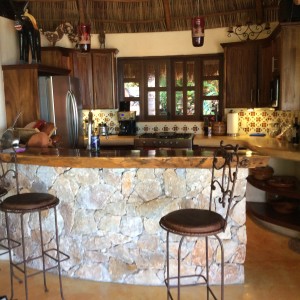 Kitchen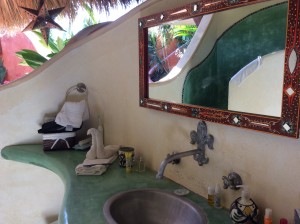 Our bathroom opens to pool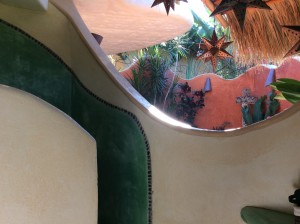 From our shower, looking over wall toward plunge pool and open sky
 Steps down to lower floor  needless to say, we immediately made the first house rule.  Anyone descending stairs must have one hand on the bannister.  This saved us many times as not only was the street to town treacherous and steep, but these stairs were steep and twisting so that falling, especially at night, would have been all too easy.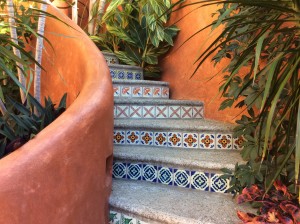 I loved the different tiles on each step.  Every detail in the Casa was chosen with an artistic eye for detail and executed beautifully.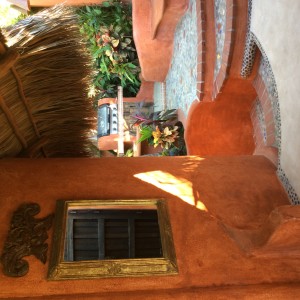 Looking from the entry toward the BBQ area — more steps.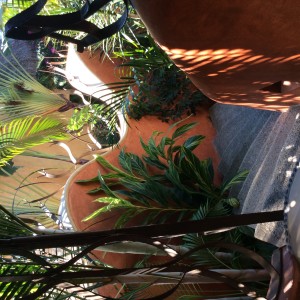 Looking down the steps to lower floor.  The two bedrooms were on the lower floor, each with its own bathroom.  The entire Casa was planted with plants that seemed well tended and were growing beautifully.  Wish my own plants at home looked half as nice.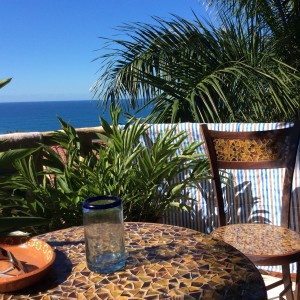 View from main floor patio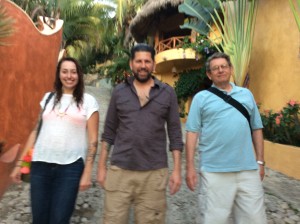 Summer Jane, Bill and Bill dressed for dinner just leaving Casa Hermosa on left and heading down steep hill to town, about a ten to fifteen-minute walk.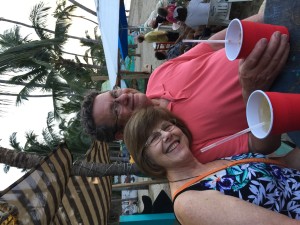 Drinks on the beach before heading to town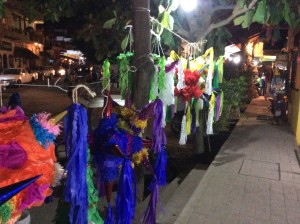 Piñata's line the sidewalks waiting for buyers for Christmas Eve, a tradition in Mexico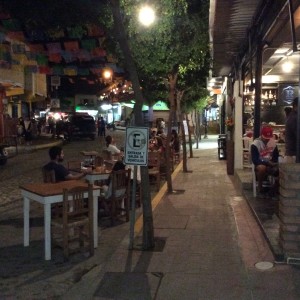 On the streets of Sayulita
 What fun we had watching the kids swing at the piñata. Billy was laughing the most I heard from him so far as an older girl swung with all her gusto and made a hit each time, despite the piñata being raised and lowered.  We watched until it was dark and the piñata's had all been razed by enthusiastic kids.  Every night the zocalo was filled with children and adults celebrating.
 After dinner, this is Summer Jane's favorite ice cream stand.  You can see Summers back and Bills back as they make their choices from the delicacies.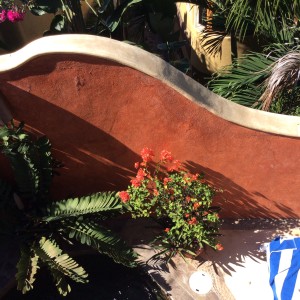 The plunge pool is to the left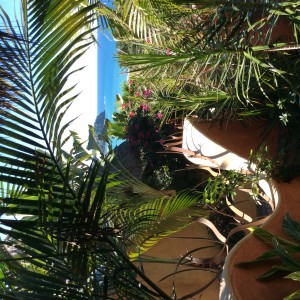 From the top of stair looking out.  The Casa had a huge palapa roof that covered the main living area, but there were some areas with no roof.  The entire Casa was, therefore, open to the outdoors  that is the reason for the high walls with ironwork above them.  To keep the bugs away while sleeping, the bedrooms did have screen Windows and if you kept the bedroom door closed and door to bathroom closed, you could sleep with no mosquitoes bothering you.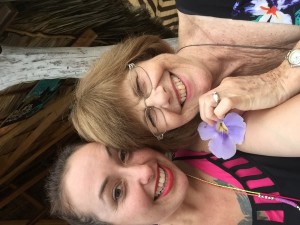 Connie and Summer Jane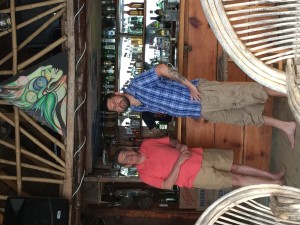 The boys ordering drinks at our beach bar.  We found this nice bar where we could sit and watch the last of the surfers before sunset.  The bar was the size of a small room with a patio that faced the ocean.  Chairs were lined up at the edge and there were always people filling the chairs to catch the last of the day on the beach.  I got a kick out of the people painting their restaurants and bars right up to the last moment before Cnristmas Eve.  This evening I watched a young man paint lettering and designs on the sand bags at the edge of the patio while patrons watched the sun set.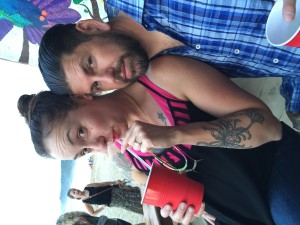 bIlland Summer Jane
 Summer takes a selfie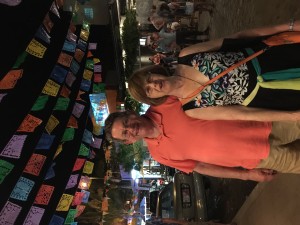 Walking the streets after dinner.  See the pretty paper flags put up over the street for celebrating New Years.  Our first fish dinner had to be considered gourmet cuisine, although it was a locally owned Mexican family restaurant.  We looked out over the Zacalo from our dinner table.  The fish was fresh caught and exquisitely prepared.  All the food we ate was quite excellent.  We had everything from fish to Mexican to Italian to pizza and all outstanding.  Although Sayulita is a small Mexican town, I was told that it is inhabited by Americans and Canadians and a lot of the real estate is owned by same.  That makes sense as our landlord had an address in California.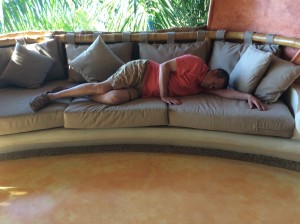 Great place for a nap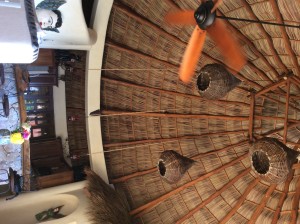 this view is shot from the couch Bill is laying on, above, and towards the kitchen trying to let you see the palapa roof and hanging lamps.  Very cool.  The top of the palapa had another small roof over it, for ventilation I imagine.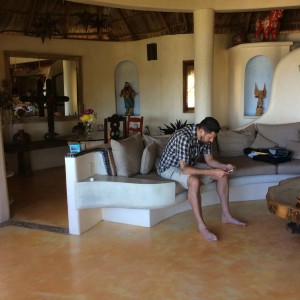 More relaxing at the Casa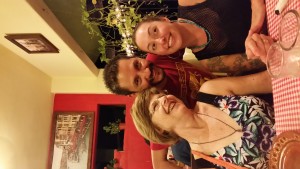 Our Christmas Eve dinner was at this fun, little pizza place just down the hill.  Every night we would walk past and it would be packed so we knew it must be good.  We had to wait for a table so went to another little restaurant a few doors down for drinks.  Summer went a few doors the other direction for two bottles of wine because the pizza place didn't serve wine but would serve our purchased wine. We loved the food at this little restaurant and the tomato and cheese plate was the best we had had; we were certain the tomatoes were fresh from a local farm, with fresh basil.  We loved our waiter and he jumped at the chance to have his photo taken.  We asked about desert and the waiter yelled, Cuenta (check in Spanish) so they didn't make dessert either, just extra good food.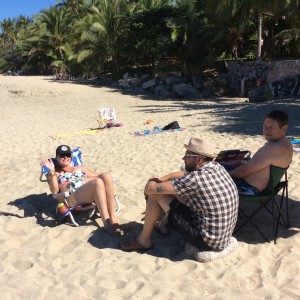 Christmas Day on the beach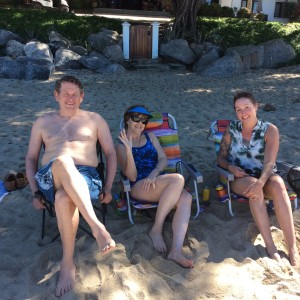 The beach bunnies and Bill  I am waving with my sprained thumb.  I took the surf rider out with me and waited a very long time before I felt it was just right to jump in.  The next thing I remember was struggling to surface and gasping for air. I can only guess the wave caught the surf rider and me and flipped the surf board and me topsy turvy.  I swam like my life depended on it to get beyond the surf where it was calm.  My thumb still hurts, weeks later.  SJ had me ice it and that helped with the swelling but it is still swollen and I have learned how much I use my thumb, now that I can't.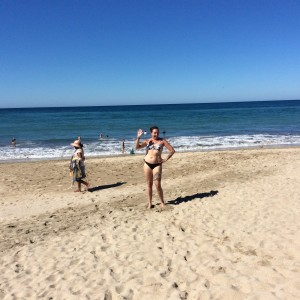 Summer ready for a dip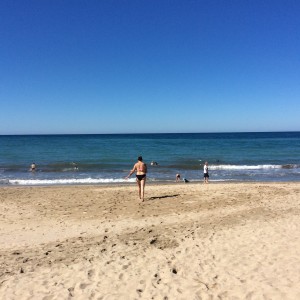 There she goes.  The water was warm as bath water and wonderful swimming.  During our last few days the surf was very mild and I managed to get in without getting my hair wet.  The first time I got in, I stood and looked for eternity, trying to decide if I could do it as the surf was rougher that day.  Then suddenly Bill poked me in the back and said "go, swim, farther, go, go, go" and before I knew it, I was way out beyond the surf.  We surged with each wave as it headed toward shore and bounced with the tides.  It was great fun.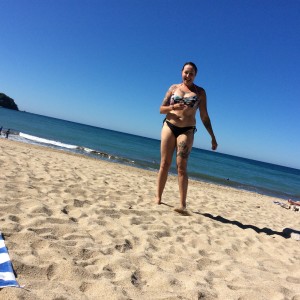 Summer had a great swim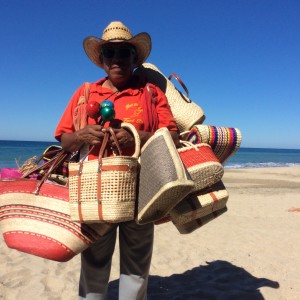 Beach peddler.  The people are so amazing that peddle their wares day in and day out, walking up and down the beach.  They take rejection so well, turning to go on their way to the next group.  It must be fatiguing and heavy to carry so much trudging though the sand.  One young boy rushed past me with a wheelbarrow peddling ice cream.  It was very difficult pushing a wheelbarrow through the sand with a heavy load but the boy didn't seem bothered.
Here we have a beach band playing a song for us.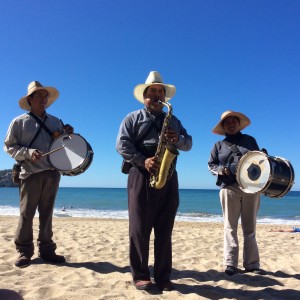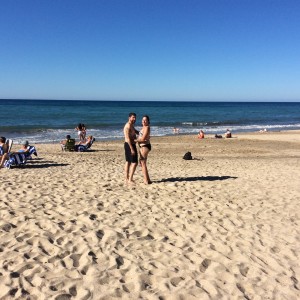 Bill and Summer Jane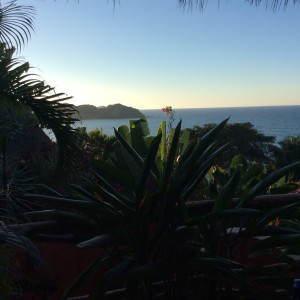 Back at the Casa at sunset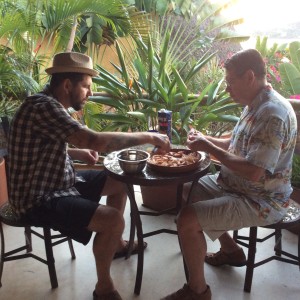 Bill went to town and purchased shrimp, carne, some vegetables, rice, bread, peppers, beer and champagne and hauled it up the hill.  For Christmas Dinner, Summer prepared a sumptuous feast.  Here Bill and Bill Jr. are deveining shrimp.  They worked diligently for a good deal of time focused on their task.  Yum!  We had a delicious home-cooked meal.
  I got to set the table and found some candles and Christmas ribbon for a festive table, some placemats rolled away in a drawer with Mexican pottery plates.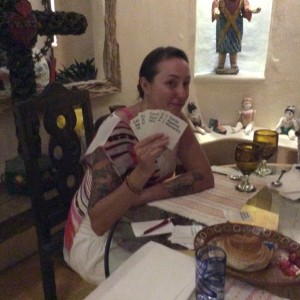 After dinner we played a most unusual card game that Bill and Summer knew well and taught Bill and I.  It was a crazy game with some words I didn't understand but Bill and Summer laughed a lot so they must have understood what the words meant.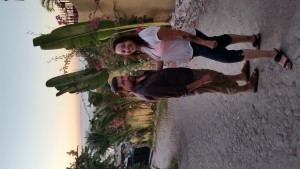 Bill and SJ night on the town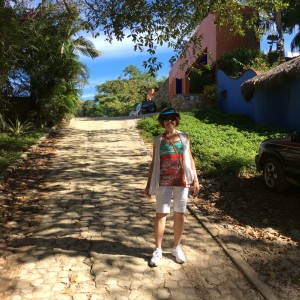 Connie heading down the hill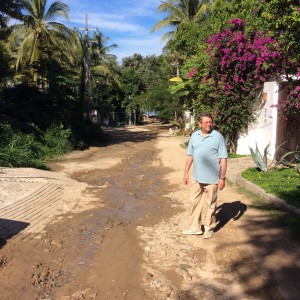 Typical Sayulita street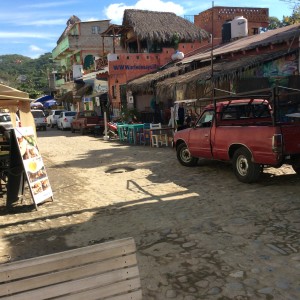 Scenes of town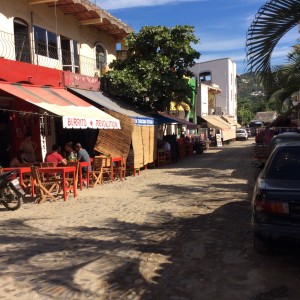 Typical sidewalk taco stand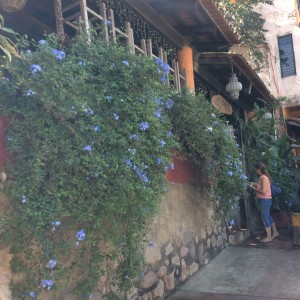 Wall of flowers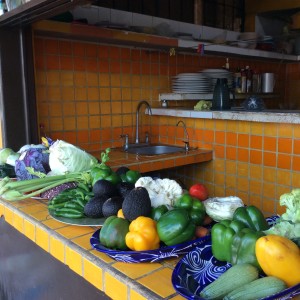 Vegetables at roadside restaurant.  This will be someone's dinner tonight
..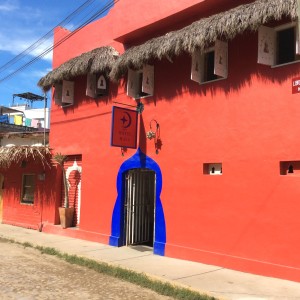 Colorful business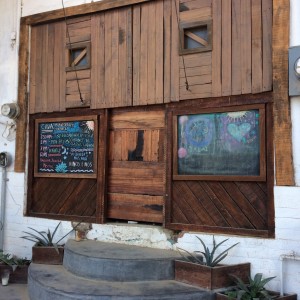 Business folds down when open and folds up when closed.  Or is it the opposite:  up when open, down when closed.   Innovative!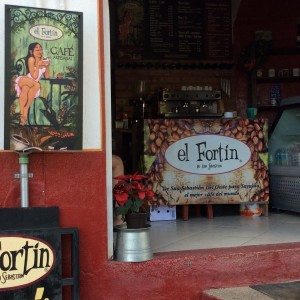 A local cafe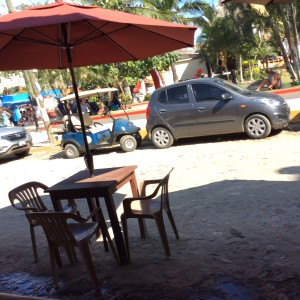 View from Espresso Cafe.  I discovered a delicacy here, fresh baked bread roll. You could have your pan dulce covered with Mexican beans or a sweet bread roll, which they toasted, buttered and sprinkled with sugar.  Once I had the sweet bread, I was hooked and put on several pounds sitting here in the morning eating a sweet pan dulce with cappuccino, facing the zocalo and watching the people and town square.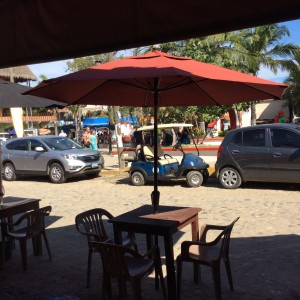 I would sit at the counter facing the street with this view.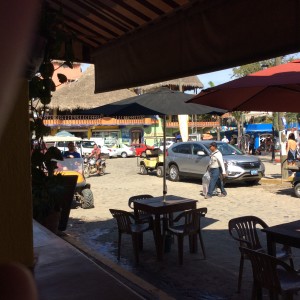 View from the cafe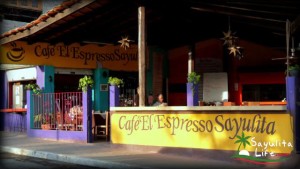 Cafe El Espresso
The last photos below are of some of the beautiful plants at Casa Hermosa.
 Doors to bedrooms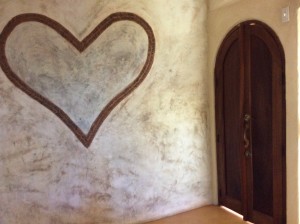 Bedroom wall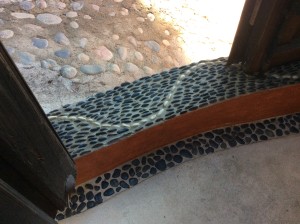 Even the door jamb had a   design.  The designer planned everything to have esthetic appeal.  Below are more of the beautiful plants.
I just couldn't end my story without a closeup photo of a typical steep street below.  See how the stones are placed so cars can get traction.  Also notice how hard this is to walk on, very uneven but practical.  After I abandoned my cute sandals for my practical sandals, I had no more trouble although Bill and I still held hands going up and down.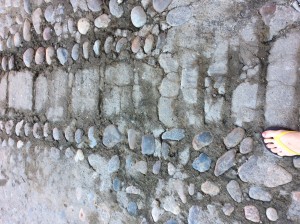 Below are the entrance doors to Casa Hermosa.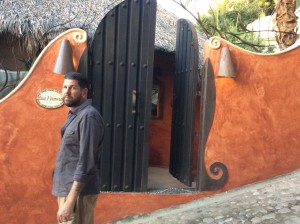 Time to say goodbye to Sayulita and Casa Hermosa.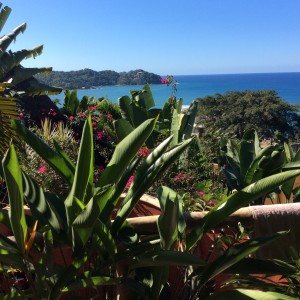 The End