Imagine the excitement.  After planning for months, thinking about packing, packing, driving to LA, flying overnight, landing in France at CDG airport, taxi'ng to the 6th Arrondissement [6e], we are finally in Paris.  We first check into our hotel for the night, Hotel Atlantis at 4 Rue du Colombier.  We are in the St-Germain-des-Prés quartier, near Saint Sulpice Chapel.
Kirk and Marcy are right around the corner in their apartment where they have been living for a week.  We have been up for 24 hours I am sure, so after checking in, we longed for a shower and to stretch out.  Bags are delivered to our second-floor room overlooking the street by an attendant.  The elevator had just barely enough room for Bill and I if we stood facing one direction with our arms at our side, no movement.  With the windows open, all the excitement of Paris floats through the open window.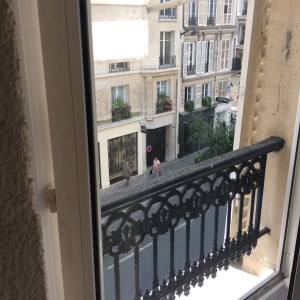 Before I realize it, I am asleep when I awake with a start, hearing people shouting and chanting, more shouting, more chanting, horns blaring, sirens. Jumping up to look out my balcony window, I see a street full of people with signs, balloons, loud speakers, and I don't understand a word they are saying.  But apparently we have arrived just in time for a protest march.
The loud speaker continues to interrupt my attempt to rest and marchers keep coming for blocks.  I believe it is related to education. So begins our Parisian adventure.  No rest in sight, we meet up with Kirk and Marcy at their apartment for cheese, bread and wine and a tour of their pied-à-terre.  On the 4th floor, they have views in both directions, a kitchen, a separate bedroom, and lots of space and Paris nightlife entertains them at night through the open windows.  We set off at last for our first dining experience. Kirk has scouted the restaurants and found one he thinks will work.
Alas, it appears our restaurant is chic with lots of people and without a reservation on a Thursday night, cannot seat us.  An excuse to wander the streets, passing the patrons eating on the street and peering into restaurant after restaurant.  We finally decide on another Italian restaurant.  It is our first night in Paris.
We are all ready to get some rest in preparation for our auto trip to Le Pecq where we will board our Viking Cruise Ship Kadlin.
DAY 1 of Cruise
I can't wait to find a cafe for morning cappuccino.  Our small table is right on the street where workmen are installing a Metro sign.  Always in Paris workmen are hammering, sawing and busy with construction.  Imagine our surprise when the cafe owner asks us politely to move our table toward the street just a pinch; not quite far enough, just another inch.  We comply, with no idea why he wanted our table moved two inches.  Then the owner pulls up the floor boards directly to the left of us to expose a large cavity beneath the restaurant.  A delivery man pushes in several loads of food and supplies that are stacked on a lift that disappears down the cavity, the floor boards are restored to their position and we are charmed by the ingenuity of the French to utilize every inch of space.  We continue with our cappuccino
kirk has arranged a van to pick the four of us up and drive us to Le Pecq.  But when I fry to fit myself and one luggage piece in the minuscule elevator, I end up jamming the elevator door.  I can't seem to get the elevator to move and I can't get the elevator door open.  Baffled, I finally decide I better get downstairs somehow so I force the door open, grab my suitcase and sprint down the stairs.  Kirk is waiting and the van is double parked.  Between Bill and I, we manage to shuffle the rest of the luggage down the stairs while waiting for the attendant, who has gone to see what the problem is.  Out the door we run and down the street.  Soon we are on our way through the French countryside and before we know it, arrive in Le Pecq where our ship hostess, Mimi, gives us a big welcome.
Our main task now was to find our staterooms, get unpacked, explore the ship, eat lunch, and be ready for our first tour of St. Germaine en Laye.  Remember what the first day of school was like?  Excitement, dread  new clothes, new classmates, learning so many things — I felt all of it.  So excited to be on our ship, home for eight nights, to see and learn as much as I could.
We were ready for lunch.  Our dining room was beautiful and the staff gracious and almost over-the-top with meeting our every need.
Our first tour was to St. Germaine en Laye just a short bus ride up the hill to the Château de Saint-Germain-en-Laye, begun in 1124 by Louis VI as a fortified hunting-lodge in the forests of St Germain.  Next to the Chateau is a park with a view of Paris and the Seine.
War with England and subsequent actions resulted in the village and the chateau being burned between 1337 and 1346.  Charles V, the richest monarch in Europe, demolished the burned buildings, and between 1364 and 1367, rebuilt a château on the site of Saint Louis' defensive walls.
Between1230 and 1238, the chapel was erected, separate from the other buildings, and the entire complex was surrounded by a defensive wall.  The chapel survived the burning of the original chateau.
Today the Chateau is an archeological museum which we did not go through.  We were on the run to catch the bus up the hill (we missed the first bus), then catch up with the first group from our ship, then a quick view of the chateau and chapel before we were ushered back on the bus.  Except for those of us that preferred to walk back down, which, of course, Kirk, Marcy, Bill and I did.
We stopped at a church to read the plaque (which was in French) but I was more intrigued by the beautiful, old tree that shaded the courtyard.
We rushed back down the hill, but not so fast that we didn't stop to enjoy the goats in someone's yard along the way.
Our first day with Viking was passing too quickly.  Back on the ship, we showered and dressed for dinner.  But first was cocktail hour (we skipped), safety briefing (all on deck with life jackets even though the depth of water was hardly enough to drown in) and Welcome Briefing with our Program Director Mimi.
Mimi not only briefed us on the following day's events, but kept us laughing with her stories.  Mimi was down-to-earth and outstanding at her job and was a favorite among all the passengers.  We had our first of many dinners on board, with staff bending over backwards to fill every empty glass, bring any tantalizing dish we desired, and enough food for an entire day with dessert.
Then we were off to talk to the concierge about arranging a taxi to take the four of us to Versailles the following day while most of the passengers had an excursion to Paris, about 40minutes by taxi from Le Pecq.
How was one to sleep?  So much had happened in the last 48 hours and tomorrow we would leave for Versailles early to arrive before the crowds.  Well, I don't think we did sleep much that night.  We were too busy thinking of all we had seen and all that was to come.
Coming Up.  Day 2  Versailles