We arrived in Sedona in plenty of time to set up camp.  The temperature was pleasantly warm.  We were so happy to be warm again.  We loved the rock formations of Sedona and our RV Park on Oak Creek in the dappled shade of very large trees.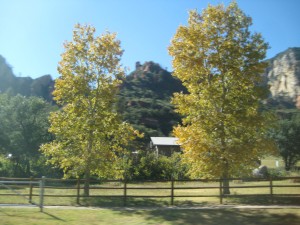 Kirk, Marcy, Kathryn, Mom and Chris visited us Saturday morning in our trailer and we heard "the rest of the story" about the hike into the Grand Canyon.  The weather in Sedona could not have been more beautiful with sunshine filtering through the trees and clear, blue skies.
That evening we all gathered in our finest party clothes and ate and drank and talked and drank and ate, got acquainted and reacquainted, and enjoyed a perfectly lovely Fall evening in Sedona celebrating Kirk and Marcy's 25 years of marriage.
We feasted at the Cucina Rustica.  For those of you that like to hear about food, the evening began with Affinato and Bruschetta.  Our next course was Insalata Mista Della Casa.  For an entree, we had our choice of Salmon Arancione, Filetto Di Manzo or Pollo Picatta.  And we finished with Dolci, Tiramisu and Mini Cannoli.  All washed down with very good wine.  Need I say, the food and wine was delicioso.
Guests traveled from many cities in California.  Marcy's sister, Marcia, traveled the farthest flying from back east.  Charlie and Daria came from Berkeley, California; Rick and Kathy from Davis, Chris and Mom from Phoenix.  Everyone managed to book hotels in Sedona and cancel their reservations in the Grand Canyon.
Sunday morning we roused the revelers to set out a brunch at the Red Agave Resort and trumped the horns when Bobby "Mom" arrived to celebrate her 93rd birthday.  Looking as fresh as a newly-picked flower, Mom arrived with a huge smile.
We sat outside in morning sun at picnic tables with the canyons as a backdrop.  Fresh bagels, to-die-for muffins, fresh fruit and of course lots and lots of coffee kept us energized for another couple of hours.  The sun shone bright and the skies blazed blue as we again rekindled friendships, sang "Happy Birthday" and enjoyed another beautiful Fall day in Sedona.
But even this hardy group had its limits, and eventually began to run out of steam when the last cup of coffee was poured from the pot.  Of course, no party of the Veirs/Champion clan is complete without photos; and we managed to pull off getting everyone rounded up for shot after shot with this camera and that camera and were finally able to call an end to the festivities–satiated, well photographed and soundly content with not one, but two family milestones.
Yes, it was on again, off again, on again and unpredictable but somehow it was also quite a lot of fun to not exactly know what the next move would be; perhaps like playing chess and the challenge of outsmarting your opponent, which felt perhaps a bit smug in the accomplishment.
Chris, Kathryn and Mom left to drive home to Phoenix.  Charlie, Daria, David and Robin left for their next stop.  Alice and Ryan drove back to Flagstaff.  Kirk and Marcy probably collapsed in the Hot Tub and Bill and Connie whiled away the sunshiny afternoon wandering art galleries and shops at Tlaquepague and Hwy. 179.   But there was more.  The chef that cooked the amazing anniversary dinner had another restaurant, the Pisa Lisa, that Kirk, Marcy, Connie and Bill visited to experience another culinary delight.  Truly the most delicate, fresh, and tasty salads of our entire trip, washed down with wine and extraordinary pizza capped the trip and this time we really did say "Goodbye" and "until next time."  By the light of the moon, we headed home to our cozy trailer.  We had been traveling for 38 days and need we say?  We were ready for "home."
But wait!  There is more.  Down to Phoenix, parked at Chris and Dave's, we had the pleasure of visiting Tim and Mayuko and Ashlyn AND Cindy, Joel, Joshua, Kaitlyn and new baby Nathan.  I was able to cuddle and rock Nathan for a good length of time–what a warm fuzzy.
Ashlyn showed me her garden and we cuddled and read stories. Chris and Dave kept us fed and entertained.  I took Mom to the Pioneer Museum of Tempe and Bill and I took Mom to the Mesa Contemporary Art Museum.  Either way, we tried our best to keep up with Mom but it was not easy.
Now I am typing this on the road between Phoenix and Palm Desert and we will be home in about thirty minutes.  I quite don't know what to do with myself to have solid ground and a real floor under me, to have a shower big enough to hold myself and seven more people, a kitchen about six times the size of our trailer kitchen, ice on demand, 650 television stations, movies on demand, clean clothes hanging in a closet, Peets coffee — wow, it feels good to be home!  But we wouldn't have  missed our Southwest trip for anything.