LA FORTUNA, COSTA RICA
We arrived at Hotel Rancho Cerro Azul on the outskirts of La Fortuna by noon, four cabins overlooking a tropical field with flowers, shrubs and small trees, beyond which tumbled the small river from Arenal Volcano.  On the small porch was a table, two chairs and a hammock for afternoon siesta.
All the cabins were built on the site by a friend of the family, even the furniture, basic, unpretentious and sturdy.
After unpacking, we found a restaurant downtown and had shrimp and seafood salads for lunch, a welcome treat, with an icy tea drink sweetened with sugar and lime.  My salad was an entire avocado with enough shrimp to satisfy anyone's appetite, fresh tomatoes, cucumbers and a dressing that complimented perfectly.  Bills seafood salad had large pieces of octopus, shrimp, tuna and clams.  Both were served with homemade rolls.  Um perfecto!
We dropped our dirty clothes at a laundry where they were weighed, washed, dried and folded for $6 and could be picked up as late as 10 p.m.  La Fortuna is built around a large town plaza a block in size that is a park for the people with benches, flowers, trees and grass.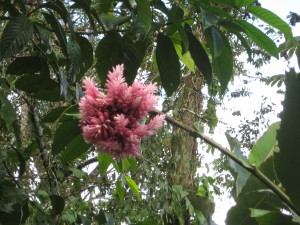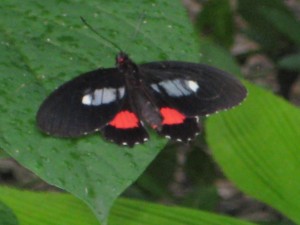 Around the plaza are small shops with crafts, souvenirs, restaurants, pharmacies, mini markets, super markets, and cafes open to the street, sodas with stools where you can grab a bite to eat, taxis waiting for tourists, and lots of people and traffic.  Streets are sometimes one way but no signs to tell you and driving was stressful for Dave as none of us could tell if we were on a one-way street.  Local drivers careen around cars parked in the middle of the street and seem to know exactly how to avoid oncoming traffic and miss pedestrians.
When Chris and Dave showed up that afternoon with the rental car, we were shocked to learn that not only did Kathryn and Chris come down with "tourista" vomiting all night, but Chris and Dave had a flat tire right after picking up the rental car and were robbed while getting it fixed at a gas station by very friendly, helpful Ticos.  Gone was Chrissy's purse, INotepad, cash, her new binoculars and Bird Book and credit cards. At first we thought Dave was jiving us because it seemed like worse than a bad movie, but finally realized he was not putting us on.   Chris was most disturbed to lose her new binoculars and Bird Book.  We went on a shopping trip the next day to replace the Bird Book at twice the cost of purchasing it stateside.
After shopping, we found a soda where locals get inexpensive food with little ambience and local conversation.  Look for these sodas filled with patrons from Costa Rica and you will find good food at reasonable prices.  We ordered plates of fresh fruit, fried plantains, fish, natural fruit drinks and milkshakes and were perfectly satisfied, despite the diesel fumes from the road it fronted.
That evening we had reservations at Eco Termales Hot Springs.   Here we were enveloped by the beauty of the surrounding primary rainforests and the natural volcanic springs of thermal water, which have created pools with different temperatures ranging from 37° to 41° Celsius, and one fresh water waterfall, all forming part of an exotic natural spa.
We started the evening at the bar for Piña Coladas and a Strawberry Daiquiri, served in plastic drink glasses you carry with you right to the hot springs pools.
I loved jumping in the last pool which was the coolest, then under the natural waterfall which was cold, then back to the warm pool.
When we were cooked and mellow, we dressed for dinner right on the grounds, a fish, chicken or beef dinner with rice and beans and salad.  The trails at night are lit with spotlights and frogs croak, animals and birds I am sure are watching us from the forest.
We chose to go back to the pools after dinner, along with a bus load of Japanese students until we were thoroughly mellow and ready for bed.  This was a favorite activity of our trip to La Fortuna.
The next morning Chris and Dave were heading to Cano Negro National Wildlife Preserve for a tour on the river while Bill and I caught a taxi to Ecocentro Danaus, a biological reserve where you can see plants and animals in their natural habitat.  We spent a pleasant morning  here observing birds and learning their names, seeing sloths and iguanas in their tree top homes, a flock of herons, caimans, butterflys and plenty of plant life and native trees.
When our tour of Arenal never materialized, we were sitting on the entry of our lodge catching up on email when Fabian arrived and for the next two hours had us under his spell. Fabien spoke little English and we spoke little Spanish, but somehow Fabien managed to keep us enthralled.  We played card games, learned to say Spanish words, found coconuts that Fabien talked grandfather into cracking open with his machete and pouring fresh coconut liquid for us, went on a walkabout looking for the family's horses and finally followed Fabien to the river waving sticks under the leaves to look for frogs, wading in the river and catching tadpoles in a little pool Fabien built of sand.
Fabien would point for us to follow him, or make noises like the sound of spraying to indicate to spray for mosquitoes, or hold up his hand saying "un momento" as he ran off to gather coconuts for us.  We were enchanted with Fabien.  It seemed there was nothing he could not think up to keep us busy and Fabien was only nine years old.
That afternoon, we had only one hour when we arrived at Rio Fortuna Waterfall before closing.  After signing all the forms warning us if we had asthma or high blood pressure or heart problems we should not attempt the hike, and signing all the forms that the park was not responsible for injury or falls, we headed off.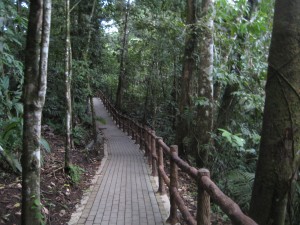 Down the steep trail we went into the forest where the sun had virtually disappeared, down, down, down, twisting this way and that as the trail worked its way down the side of Arenal Volcano.  I hung onto the chains that  marked the trails for balance and gingerly took one step at a time down the wood stairs and cement walkways.  Where the trail had been washed out by rain, makeshift ladders were improvised.  Fifteen minutes after beginning our descent, the waterfall was in sight.
A few brave souls were swimming in the pools directly below the falls.  We chose a lower pool where the water was calmer for a refreshing swim in tepid water.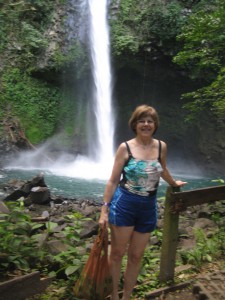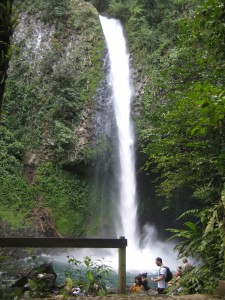 With twenty-five minutes remaining, we began our ascent.  Even though the trail out was very steep, because of the lack of elevation, it seemed much easier than it looked.  We arrived back at the entry at exactly 5 o'clock, content with our trek and swim to La Fortuna Falls.
We spent the evening in La Fortuna for dinner.  Comical was I when I tried to get in the wrong car with the owners watching me from the bar.  Oops!  So sorry, I explained as I went to the next car, a look alike, and even that was not the right car.  We found a shop with a young girl doing a type of needlework on a loom and producing very lovely tapestries.  Her name was Vivien and she was delightful, such a warm smile and welcoming, with her Bible in the corner.
I couldn't help myself from purchasing a set of placemats woven on her loom in bright turquoise and Orange like the beak of a Toucan.  People flock to the park plaza in the evenings and we were no exception, watching Dave eat his ice cream after his disappointing seafood salad filled with octopus which he was not crazy for.
Too soon it was time to pack our bags for the trip to Dominical.  Our host family all came out to say goodbyes the next morning and there were hugs and photos from Mama, Papa, Tatiana and Fabien.
Tatiana gave us each a gift of a painted red frog as a remembrance.  Hotel Rancho Cerro Azul was a very special place to stay and a special family that hosted us.