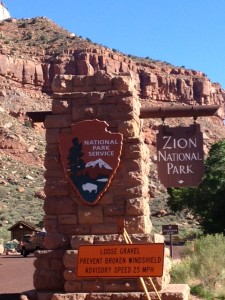 Just because it's September and the kids have returned to school doesn't mean there will be no crowds at Zion.  Several months in advance we tried to make reservations to camp at Zion and were only able to get two days simultaneously; so we split our time between two campsites.  We were up early the morning we switched to our second campsite and ready to move out by 9 a.m.  But the second campsite was not vacated and the group staying there used every minute of their time before check out until 11 a.m.  We had time to bike to town and have breakfast at Deep Creek Coffee Company.  Deep Creek has a neat open air deck upstairs where you can enjoy views of the canyons; very good, strong coffee and nice breakfast menu; silly me, I just ordered oatmeal but it was flavorful and substantial (not just a mix with hot water stirred in).
Back at camp, we still had an hour to kill so Bill drove the trailer to the Dump Station to empty the gray and black water and fill the trailer water tanks.  He pulled in behind a huge fifth wheel rig.  The driver got out, inspected the dump station, the hoses, his rig, then donned plastic gloves.  Thirty minutes later, the man meticulously finished his job, surveyed everything in front of him with satisfaction and drove off.  It was a lesson in patience for certain for Bill, but mostly agitation that anyone could be so thoughtless when other people were in line as to take his own sweet time and then stand back admiring his work.
We liked all the wildflowers at the campsites in Zion.  Our 2nd site had a group of golden daisy like flowers so pretty to enjoy while eating.  The shade from overhead trees also helped as temperatures were in the high 90's in daytime.  We liked having space between us and other campers.  We happened to land right in the middle of a group of Airstream Trailers that were caravanning together.  You could look down our row and see one after the other shiny, aluminum,  Airstream trailers as big as houses.  The RV sites have electrical hookups (at Watchman campground).  I love having a microwave while camping.  It makes me feel like I am really roughing it.  The canyon walls were visible from our trailer in both sites and the moon visible in all it's brilliance giving a ghostly glow to the canyon and all it's inhabitants.  We could walk to the camp programs by the light of the moon.  We always learned something at their programs.  For instance, did you know that Zion NP has the most visitors of all the National Parks, 3 million a year?  Neither did I?  And as it turns out, neither does National Geographic which lists Zion about #8 on its list.  Do you know what a crepuscular is?  It is an animal that is seen at dawn and at dusk.
To reduce traffic congestation in the park, a shuttle system is the mode of transportation for all visitors.  The shuttles run continually from very early (6 am in summer) until quite late (10:15 pm in summer).  There is no charge to ride the shuttle.  There are ten stops beginning at the town of Springdale and ending at the north end of the canyon at Temple of Sinawava.  At any shuttle stop in the Canyon, you will find trails, restrooms, and drinking water.  A few of the trails are paved for accessibility.  The shuttle is an efficient transport system to allow many people to see the park.  I found, on the other hand, that it detracted from the wilderness experience in several ways.  Because so many people visit, hiking some of the trails is like being on a popular ride.  Being packed like sardines in a crowded shuttle bus hoping for a cool breeze through the small window opening felt too much like being in the city riding a bus.  With planning, I think you could avoid the crowds, but it beats me when or how.
We happened to visit Zion in the midst of major construction; the Riverside Walk, Temple of Sinawava, and the Narrows were not accessible unless you walked from the last shuttle stop at Big Bend.  Buses were slower than usual because of waiting for construction crews to give the OK to pass.  And our last morning, the construction crews fired up their engines right outside our camp at 8 am, making it feel anything but peaceful.  They also closed the Dump Station that morning so we sloshed all the way to Cannonville (don't ask!). Yet there is so much to see and do, there are always options if a door closes on you.  We chose the Weeping Rock Trail on our first shuttle ride.  You can stand in a grotto under the dripping springs  and view the canyon for miles.  The cool water is gentle on you and cools a hot body from a crowded shuttle.
Our next stop was The Grotto where we joined hundreds of other hikers on the Kayenta Trail to the Emerald Pools.  Bill thought as long as we were hiking and in Zion, we were going all the way, to the Middle Emerald Pool  and up to the top to the Upper Emerald Pool. We thought for all the effort, we were in for a dazzling sight.  What we found was a large pool with about fifty people sitting on rocks staring as more people emerged from the hike up.  Well, that was interesting, we thought.  Back down the trail and a turn to the Lower Emerald Pool, which turned out to be my favorite of the three pools.  There was not only a beautiful Emerald pool, but water dripped from above the trail offering a refreshing shower, and the rock walls were striking.  We took the paved walk back toward Zion Lodge and caught the third shuttle back to camp (the first two were standing room only).
One day of riding the shuttle was enough for us, so we chose the Pa'rus Trail for a bike ride the next morning.  Although only 3.5 miles, this is an easy trail for seeing the canyon floor and enjoying the Virgin River which the paved trail crosses four or five times. Riding in the morning sun was delightful. Why did they decide to close the  Zion Human History Museum September 19?  Who knows, but we will have to visit the Museum on our next trip.  The Pa'rus Trail goes right by the Museum.
Back at camp, we came across a trailhead called Watchman Trail 2.7 miles round trip.  Let's do it.  What a treat this trail was.  It ascended for it's entire length, working it's way up the red sand and rock canyon, crossing water you could smell and feel, but rarely see.  We knew there must be a real treat for us at the top and there was–views for miles of lower Zion Canyon and even the town of Springdale.  But the most memorable treat for us was meeting a young couple from Israel with their baby in a backpack.  We talked and joked and compared notes on trails and highways and the young man showed me how to update the IOS on my IPhone, of all things, on the top of this cliff, hands on.  The couple also shared the "inside scoop" that someone like me doesn't have a clue about–to install the IOS at night because it takes a long time and uses memory, so, they told me, make sure you are plugged in to a power source. The walk back was a piece of cake, all down hill.  The best part was the trail was not crowded, I guess because it is not a shuttle stop but begins across from the Visitor Center.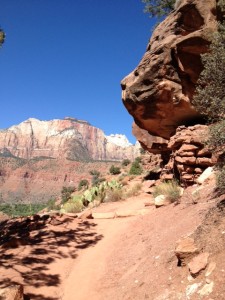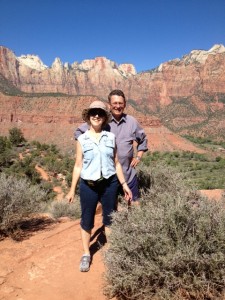 After our hike, we rode our bikes to Springdale.  It is surprising to find a town with lots of restaurants, coffee shops, gift shops, Wifi within a mile from the entrance of Zion.  When the sun began to set, we decided it was time to head back to camp.  We flew on the downhill slope, holding on for dear life, with a cool breeze energizing, and enjoying the sun setting on the canyon walls as another day came to a close.  We really enjoyed our visit to Zion.  In four days, we only saw a glimpse of all there is, but we saw enough people to get our fill.  We will research a less-populated time to visit.  The icing on the cake was our last campfire program.  Night had fallen, stars were just beginning to shine, and the beautiful night was shattered by the sounds of music.  We learned the Zion Theater at the north end of Springdale was having a live outdoor concert.  The peace and solitude of the Canyon was nonexistent.  It was loud, it was Rock, and it was not conducive to the wilderness of Zion National Park.  The Park Ranger had to strain to be heard above the noise.  We walked back to our campsite in the moonlight thinking what a strange world it is, beautiful, awesome, and contradictory.